The Morning Line: Sioux Falls, Day 2
By: Slade Long
April 02, 2016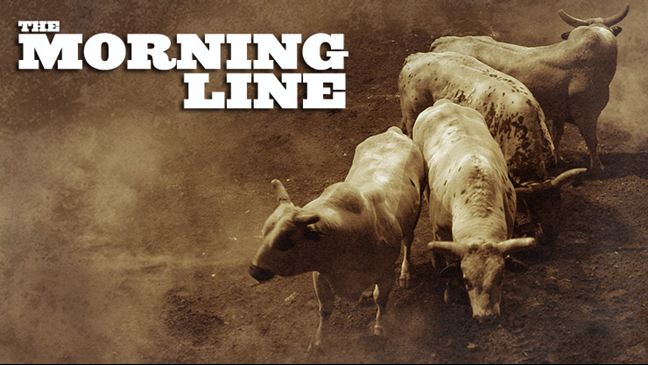 Morning Line – Sioux Falls Round 2 & 15/15
Round 2
Cooper Davis on 786 Hot Iron:
This is one of the two most experienced long round level bulls on Jared Allen's Pro Bull Team., the other is 911 Hy Test who is also in this round. Hot Iron is the harder of the two bulls to ride. He has a tendency to scoot out of the chute in a straight line and cover a lot of ground for a couple of jumps before turning back. Once he gets into a spin he's routine, but it's the transition that shakes most riders. Davis has seen this bull a lot and surely knows what to expect, but he will still have a tough time here. Hot Iron has been out 34 times at this level and has given up just 6 qualified rides.
Gage Gay on 105Y Chantilly Lace:
Gay finished second in the round last night, and he's got a great chance to put two good rides together here. Chantilly Lace is almost sure to spin away from his hand, but he's a rideable bull that shows well and can deliver good scores. He backs up under himself a little, and that can help a rider, particularly on bulls that spin away from the rider's hand.
Juliano da Silva on 911 Hy Test:
This is the other Jared Allen / Matt Scharping bull I mentioned. He's got a more conventional style than Hot Iron, he just goes into a spin to the left as soon as the gate opens. He can drift across the arena quite a bit while spinning, but this looks like more of a problem for riders than it actually is. The bigger issue for da Silva is that Hy Test will be spinning away from his hand.
Fabiano Vieira on 803 Off the Rez:
Vieira won the round last night, but to repeat that he'll have to be the first man to get by this bull. Off the Rex has been around for some time, but he hasn't been ridden. That's partly because he doesn't go as often as some other bulls, and possibly because he hasn't really faced any high level left-handed riders. He's been pretty good at throwing off right-handed guys.
Kasey Hayes on 868 After Party:
This is the most experienced bull in Sioux Falls this weekend, and he's one of the best draws as well. This will be After Party's 99th career out, and his 71st at the Built Ford Tough series level. He's notoriously tougher on left-handed riders, because he spins to the right and he's quick, but he's not un-rideable. When he has his day he has a duck and turn to the right in his first jump with a lot of backup, and he's put some of the best riders in the PBR down on his head in under two seconds. Other times, he's much nicer and gives riders a chance. He's been on the trail since 2009, and he's past his prime, but he's still a great bull with something left in the tank. He will go the right, and if Hayes can get past the first two or three jumps he's got a shot at placing in the round or even winning it.
Shane Proctor on 104 Moto Moto:
Proctor was thoroughly disrespected by lady luck last night. His first bull decided to fall on top of him and his second one nearly yanked his arm off. This one should prove to fit him much better. Moto Moto leaves the chute with considerable force and can be tough for the first couple of jumps. He can throw a big fake to the left before coming around to the right, but once he gets into a right-hand spin Proctor should handle him with ease. Several right-handed riders have put up good scores on him.
Derek Kolbaba on 078 Grandpa Joe:
Kolbaba had Berger's Joe the Grinder last night and didn't do well. This bull is nearly the same except he spins in the opposite direction and is a little slower. Those characteristics make him a much better fit for Kolbaba.
Paulo Lima on 83 Cowboy Up:
This is a very pretty and colorful bull with an equally flashy style. He's given up a number of qualified rides, but the difficulty for Lima is that he goes to the right, away from Lima's hand. If he doesn't get Lima off quickly he will double down and go to the right faster. You can see him amp up the speed and centrifugal force the longer a rider stays aboard. That makes him tough for a left-hander, but not impossible, and he's a good long round draw for anyone.
15/15 Bucking Battle
The riders as a group didn't draw well in this round. Only a few guys have a bull that remotely fits them.
Ben Jones on 122 Cooper Tires Semper Fi:
Jones is not feeling well, and the prospect of having to get on this bull probably isn't going to perk him up. Semper Fi has great big horns, that he's quite proud of, and he does his dead level best to get riders down in between them. He typically goes to the left, although he did go to the right with Kaique Pacheco in Anaheim earlier this year. He has a hop and skip move with a lot of backup just as he goes into a spin, and that's enough to get most guys too far forward. Once that happens it's like being locked in a closet with two gorillas armed with baseball bats. Semper Fi isn't un-rideable, and he doesn't overpower anyone, but he's pretty intimidating because of his style and his propensity for knocking guys around.
Kaique Pacheco on 43X Lane's Magic Train:
The upside of this matchup for Pacheco is that this bull likes to go to the right. The down side is pretty much everything else Magic Train does. This is not a bull that falls into an easy pattern and stays there. He's wild and unpredictable to the point where sometimes he has a bad trip because he just can't get it together. Pacheco will have to work here, but he's got more of a chance than many guys in this round.
Derek Kolbaba on RK101 Slinger Jr:
This is a rematch from St. Louis where Slinger Jr. threw Kolbaba in about two seconds. That's been the fate of most guys who have been on this bull. He's been ridden just once in 37 career outs, 20 of those coming at the BFTS level. He's thrown off J.B. Mauney twice, along with quite a few other capable riders.
Lachlan Richardson on W37 Cochise:
This is the bull that stepped on Silvano Alves' head in New York. Paulo Lima also rode him in New York. The difficulty with Cochise is the first jump. He takes a long leap out of the chute that covers a lot of ground, and when he hits he turns back to the left. He doesn't fit Richardson's style in any way, and Richardson is a huge underdog here. Richardson tends to ride loose and with good balance more than anything. This bull has the ability and can overpower him quickly.
Cooper Davis on 841 Wicked:
Wicked does get ridden occasionally, but not so much by right-handed riders, and never by Davis. They've met three times previously and twice last season, along with a duel at a 2013 rodeo in Springdale, Arkansas. Davis has lasted more than five seconds each time, but Wicked is a tricky bull that is as hard to ride at eight seconds as he is at one. He never settles into a pattern a rider can get comfortable with.
Mason Lowe on 978 Little Red Jacket:
Lowe has a huge advantage being right-handed. Little Red Jacket is very vulnerable to giving up qualified rides to right-handed riders. It hasn't helped Lowe that much so far since he's bucked off this bull twice. But, by the numbers, this is by far the best bull for a righty to draw in this round. Like Semper Fi, he can have a lot of backup and really wants riders down on his head, especially at the beginning of the ride.
Robson Palermo on 1237 Walk Off:
Palermo had this bull earlier this season in Sacramento, and he's had him once in each of the previous two seasons. He's 0 for 3 so far. Walk Off is more of a pattern type bull than some of the others in this round, but he's so strong that he's able to win most of the time anyway. Every rider knows what to expect from him, but he's been ridden just six times in 54 BFTS outs.
Eduardo Aparecido on 654 Stanley FatMax:
Fat Max has never been quite good enough to compete for World Champion Bull, but one thing he is good at is helping riders get a zero score. He has more career buckoffs at the BFTS level than Bushwacker,  By the time he came to the Built Ford Tough series in 2010 he had already been around for a couple of years, and he's logged more than 120 outs in his career while only giving up five qualified rides. In short, he's one of the hardest to ride bulls ever. Aparecido has tried him twice before with no luck.
Mike Lee on 927 Air Time:
Air Time likes the left, and Lee is left handed, but Air Time is still the favorite in this matchup. Lee has a very relaxed riding style, and it serves him well. A lot of the younger riders could learn something from him. On most bulls, being loose and relaxed gives him an advantage in that it counters the strength of the bull and never lets the bull yank on him. But, Air Time has a level of power and athleticism that few bulls are capable of, and that is likely to force Lee out of his comfort zone. Any small mistake will be enough to do him in.
Wallace Vieira de Oliveira on 12 Crossfire:
Cooper Davis became the first man to ride Crossfire two weeks ago in Albuquerque, but as corporate lawyers say about mutual funds, past performance is not necessarily indicative of future results. Crossfire didn't lay off and let Davis get there. He was as hard to ride as ever, and Davis just overcame it. Oliveira has tried him twice and has managed exactly 2.55 seconds each time.
Fabiano Vieira on 045 Seven Dust:
Stetson Lawrence rode this bull in Calgary last summer, but no one else since this bull left Canada at the end of last year. This is a wild and unpredictable bull that puts out a lot of effort. He's particularly good at using the weight of his head to gain momentum in every jump. He will pick his head up and drive it down as he drops and it gives him a little extra oomph that he wouldn't have otherwise. Vieira can ride any bull at any time, and he's got the talent to ride this one, but it's going to me a lot of work.
Joao Ricardo Vieira on 02 Beaver Creek Beau:
Vieira is getting better at riding bulls that go away from his hand, but Beau may be the hardest bull going for a left-handed rider. Earlier this week Cody Lambert called him a nightmare for lefty riders. He's big, powerful, and not particularly speedy. Many guys over ride him, and if Vieira gets ahead of him a little bit here he's done. This bull has the power to put down anyone who gets out of position or out of time with him.
Shane Proctor on 90 Boot Jack:
Boot Jack always goes to the right, and Proctor is right-handed, but that doesn't mean a lot here. They've met twice before and the bull won both times. Boot Jack hasn't been around as long as Stanley FatMax, but his record shows he's only slightly easier to ride, which of course means he is not easy at all. This is a shifty bull that will change things up depending on where the rider is. He can throw guys to the outside, or suck them into the well depending on how he feels that day. This is a bull that a rider can never really get comfortable on because he's always stepping away from the rider in a spin or accelerating to keep the rider behind. To ride him Proctor will have to be smart and not make any mistakes, and that is a tall order on a bull like this.
Paulo Lima on 850 I'm A Gangster Too:
Lima has a chance here. This bull can be ridden, and has been ridden a number of times, but he's never easy. He can kick so high he hits guys in the back with his back end. When he does get ridden it's usually when he has an easier day, so Lima's fortunes are largely dependent on what Gangster decides to do.
J.B. Mauney on 1149 Pearl Harbor:
Mauney sustained an elbow injury in the chute last night, and it's unknown whether he will be able to go tonight. If he can, this is easily the marquee matchup of the night, and probably the weekend. Pearl Harbor has been outstanding this year. He's a big, strong bull that can overpower anyone. He can have strength and drop to rival Long John, and he's got more direction change than Long John has on top of that. He's the son of Black Pearl, a bull that Mauney made two big time rides on in his day, including a 93.75 point effort at the 2009 World Finals. If we are going to see a better ride this season than Cooper Davis turned in two weeks ago, this is the matchup that's likely to produce it.
© 2016 PBR Inc. All rights reserved.