The Morning Line: Tacoma, Day 2
By: Slade Long
April 23, 2017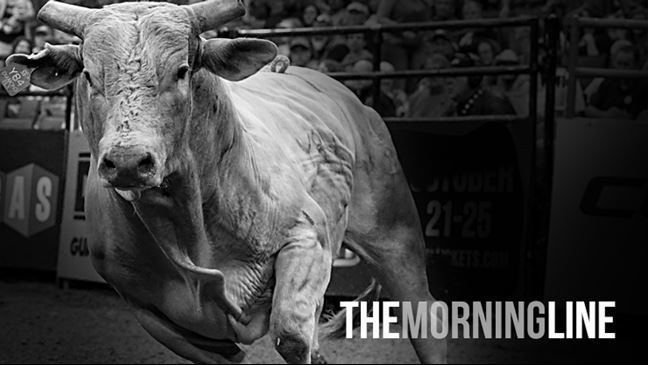 TACOMA, Wash. – They rode a lot of bulls here in the first round, and quite a few riders will need a second score to make the championship round. Several guys who didn't get a score in Round 1 look good to get one today, but they may be already out of contention for the event win, and only have a shot at the round points.
Guilherme Marchi on 212 Locke & Loaded:
Stormy Wing won the opening round on this bull last night, and should have won it by more than three quarters of a point. The bull also went to the right with Wing, and that should suit Marchi just fine. We could see a second straight round-winning ride on the same bull.
J.B. Mauney on 281 Shakey:
Shakey got the best of Jess Lockwood last night, and he did it by going in a straight line with a lot of up and down. By the time he did turn back, he had Lockwood loosened up enough to throw him off. Mauney may or may not be the best rider in history, but there's no debate over whether he is the best rider in Tacoma at handling bulls with a lot of up and down. He is.
Stetson Lawrence on 718 Captain Jack:
Lawrence ended up tied for 15th in the round last night, but chances are he will do better than that in Round 2. Captain Jack is 0-6 against left-handed riders, and Lawrence rode him in Sacramento, California, this year for 87.25 points. This bull has produced a number of rides over 87 points, and that is the goal of every rider in every long round.
Cooper Davis on 248 Squirrel:
This is a fairly new bull, and today will be his Built Ford Tough Series debut. He likes to go two or three jumps and to the left, he's quick, and he hugs the ground a little, but he's not enough bull to outmaneuver Davis unless he makes a dumb mistake.
Kaique Pacheco on 00 Set 'Em Up Joe:
These two met in Billings, Montana, and the bull ended up slipping with Pacheco for a re-ride option. Pacheco looked very sharp last night on his Round 1 bull, and while Set 'Em Up Joe is no pushover I don't see much chance of him bucking Pacheco off.
Eduardo Aparecido on 422 High Horns:
Aparecido has a chance to make up for coming down on both bulls last night, but there's almost no chance he will be able to prevent other riders from closing the gap on him. He's ridden this bull before, but High Horns may not be enough bull to place him in this round or help him get into the championship round. He may have to sit on the sidelines and watch several other riders get two chances to chip away at his world lead today.
Stormy Wing on 83 Cowboy Up:
Wing could end up placing well in this round after winning the first one. Cowboy Up is a lot like his first round bull, in that he goes to the right, and he may well be a little smoother to ride. This bull isn't ridden often, but there's nothing for any rider to dislike about him. He's a straightforward good but challenging draw.
Koal Livingston on 026 Just Juan:
These two met in Billings, Montana, a couple of weeks ago, and the bull won. He is a good fit for Livingston, though, and I would expect Livingston to make it count this time and put a second score on the board here.
Dener Barbosa on 96 Redneck:
Barbosa got a low score in Round 1, and ended up tied for 17th place in the round. He needs another score today, and will almost certainly get one on this bull. Redneck is one of the easier bulls to ride at the BFTS level, and he's on par with the bull Robson Aragao had last night. He's been ridden 12 times in 16 BFTS outs.
Dakota Buttar on 677 Smooth Sailing:
Buttar, like a lot of other guys, needs a second score at this event to get him into the championship round. Unlike a lot of other riders he has a tougher path to getting one. Smooth Sailing isn't really all that smooth for riders. He's only been ridden three times in 17 outs and never by a left-hander. The difficulty with him is that he can be wild and out of line for two or three jumps before settling into a consistent spin to the right. He gives riders all they can handle just going straight, and it's usually enough to get them loosened up before he turns back. Although this is a tough matchup for anyone, you should never count Buttar out. He will often get it done where other guys cannot.
© 2017 PBR Inc. All rights reserved.