The Morning Line: World Finals, Day 4
By: Slade Long
November 05, 2016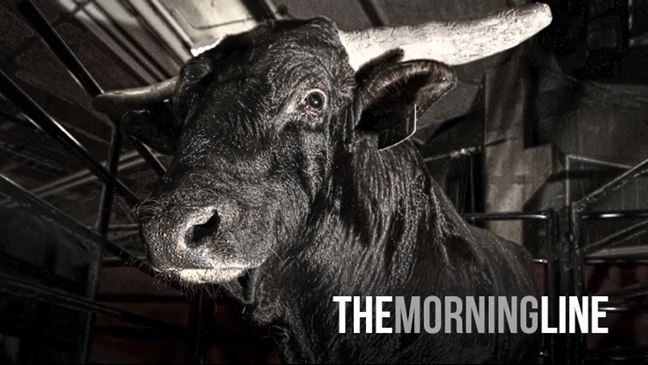 Morning Line – 2016 World Finals Round 4:
Tonight's round features the Top 16 ABBI Classic bulls coming back for their second and final round, and the rest are bulls that we haven't seen yet in the previous rounds.
J.B. Mauney on 247 Red Dawn:
Mauney came down last night, and he won't have an easy time tonight. This was Cody Lambert's favorite Classic bull after the first round even though he didn't win. Red Dawn is unridden in seven outs, but he's untested as well. Mauney should be favored against every inexperienced bull, but this one won't be an easy win.
Valdiron de Oliveira on H22 Flight Plan:
Oliveira has been on this bull twice before, and bucked off each time, but in their most recent meeting he made it to the 7.79 second mark. This bull can be pretty salty at times. He was ridden twice late in the season by Gage Gay and Joao Ricardo Vieira, but he will challenge Oliveira here.
Cooper Davis on 991 Dead Calm:
Kaique Pacheco won the 15/15 Bucking Battle in Eugene, Oregon, on this bull with an 89-point score, but overall Dead Calm has been ridden just twice in ten Built Ford Tough Series outs. This is another bull with ties to Canada – he originally came from 2 Bit Bucking Bulls and Lorne High in Alberta. Davis is capable of riding any bull here, but this one is unpredictable and won't be a walk in the park.
Dener Barbosa on 143 Bad Moon Rising:
Bad Moon Rising is 4-4 against left-handed riders in his career, and he's one of the nicer draws for a lefty in tonight's round. Barbosa has two scores in three rounds just like Pacheco, Davis and Mauney, and he's very much in contention for the average title just as they are. He has a good chance of picking up a third score here and it could be a good one.
Ty Pozzobon on C12 Rebel Yell:
This bull has been ridden six times in twelve BFTS outs, so he's not that difficult. He is a better fit for a right-handed rider. He's only given up one score to a lefty, but he also hasn't faced that many top-tier left handed riders. Pozzobon has good bulls here, and he's made the most of it. He should keep it going tonight. This bull will go away from his hand, but in every other way he's a lot like the bull Pozzobon had in round one.
Kaique Pacheco on 247 Red Bandana:
This is the bull that cost Juliano da Silva the BlueDEF Finals title just a week ago at South Point Arena. He's been ridden just twice in eleven career outs, but Pacheco will be the best rider he's ever faced. Pacheco looks unflappable and he should not have a problem here. Despite coming down on Pearl Harbor, Pacheco is riding his best when it counts the most.
Kasey Hayes on T71 Air Marshall:
Hayes hasn't had a good week so far, but it's about to get better. This is the bull Chase Outlaw won the first round on, and he's a near perfect draw for a lefty. He has great timing, and Hayes should make him look good.
Guilherme Marchi on Z26 Acting Crazy:
Acting Crazy comes into Saturday night in the lead for the ABBI Classic title. He put up 44.5 points on Wednesday, and he's unridden in eleven career outs. Marchi has been rock solid for the last two rounds, but this bull might be his toughest test of the Finals so far. The good news for Marchi is that this bull consistently goes to the right.
Emilio Resende on 033 Shoot Out the Lights:
Resende doesn't have a score here yet, but he won the big prize in the draw for this round. Shoot Out the Lights is by far the best draw for a right-handed rider in Round 4, and maybe in all the NFR. He's 4-11 against right-handed riders in his career, and he will usually produce a score in the 87-88 point range.
Jess Lockwood on 397A Frequent Flyer:
Frequent Flyer was last year's ABBI Futurity Champion, and he's here as a 3-year-old competing in the Classic division. He doesn't have a lot of experience with a rider aboard, but he's been really good at the BFTS level when we've seen him. He threw Lockwood off in Springfield a couple of months ago, but this may be the best matchup Lockwood has had all week. This is a classy bull that can deliver a big score.
© 2016 PBR Inc. All rights reserved.