The Official California Rodeo Vehicle is Here and Ready to Hit the Road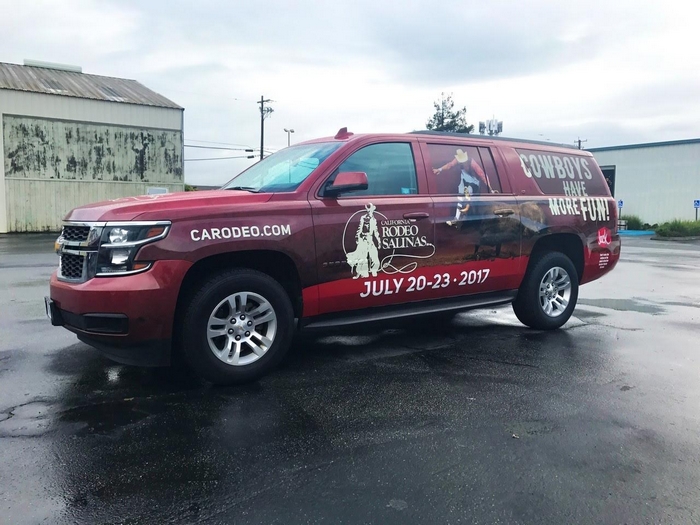 April 21, 2017 – Salinas, CA – Each year the California Rodeo has the opportunity to put advertising on wheels with the Official California Rodeo vehicle. This form of Rodeo advertising began with convertibles featuring long horns mounted on the hood, and has morphed into a modern day work of graphic art. The vehicle sports a custom wrap featuring the 2017 advertising campaign "Cowboys Have More Fun" with imagery of the crowd favorite finale event, the freestyle bullfights, with a bullfighter jumping a bull from a photo taken by Richard Field Levine. The campaign is the result of collaboration between the Marketing team and designer Tracy Hopper, owner of Hopperopolis. More installments of the campaign will be used on advertising posters and online. The use of the Chevrolet Suburban is donated by MY Cars of Salinas and the custom wrap was installed by Central Coast Sign and Design of Salinas.
The Official California Rodeo vehicle will hit the rodeo road starting in April and be used through the end of the Rodeo in July. During that time it will travel up and down the state of California to places like Red Bluff, Clovis, Santa Maria and other cities for parades with Miss California Rodeo Salinas 2016, Megan Ford, riding on the hood behind Monte, a long horn steer head that attaches to the grill, inviting parade attendees to the 107th California Rodeo Salinas. Often times, the Rodeo's signature song "Saddle Up Salinas" by Ed Montana, can be heard while driving by, getting people in the spirit of the Rodeo and raising the excitement level. Locals can see the Official California Rodeo vehicle in the Kiddie Kapers and Colmo del Rodeo Parades on Saturday, July 15th as well as driving around town running errands as we prepare for the 107th California Rodeo Salinas July 20th through the 23rd!
Make sure to 'like' and 'follow' the California Rodeo Salinas on Facebook and Instagram to stay up to date on events, information and more.
The 107th California Rodeo Salinas will take place July 20th-23rd, 2017. The California Rodeo Association is a non-profit organization that strives to preserve and promote the traditions of the California Rodeo Salinas and the West. We support the community and other non-profit organizations through the staging of the annual California Rodeo Salinas and other year round operations of the Salinas Sports Complex. Through donation of our facility, vending and fundraising opportunities during Rodeo and other events, the California Rodeo Association returns over $300,000 annually to local non-profits. For more information about the California Rodeo Salinas, log on to www.CARodeo.com or call the California Rodeo Office at 831-775.3100. -'Like' the California Rodeo on Facebook at www.facebook.com/CARodeoSalinas or follow us on twitter @CaliforniaRodeo for updates, photos and more.