Top-10 Rides in Sacramento History
By: Justin Felisko February 01, 2016
ANAHEIM, Calif. – When looking back at the past 11 years of Built Ford Tough Series action in Sacramento, California, it is hard to not think back to the PBR's first 15/15 Bucking Battle.
It was inside Sleep Train Arena, which is hosting the BFTS for the final time this upcoming weekend, that the PBR unveiled the nationally televised 15/15 Bucking Battle series.
The first one was also one of the best with five 90-point rides, including Valdiron de Oliveira's career-high 94-point strongman ride aboard Buckey.
"I remember," Oliveira said with a huge smile inside the Honda Center this past weekend. "This was the first 15/15 so I didn't know. I say, 'I know the bull bucks hard.' I think one guy had stayed on him for a long time. It was not too easy to ride. I took my time on the bull and put my mind and stayed calm. I got on the bull and stayed on for 8 seconds and 94 points.
"That is the highest score in my entire life. I am very happy because everyone turned to me and said I can't ride Buckey for the money."
Buckey had bucked off 10 consecutive BFTS riders before Oliveira converted for the 8 seconds.
"I remember Valdiron riding Buckey," nine-time World Champion Ty Murray said. "I think he turned right back to the right and kind of got some air. He was a bull they thought a lot of."
It was one of five slam dunk 90-point rides inside the home of the Sacramento Kings. The Kings are moving into the brand new Golden 1 Center next fall and the PBR is planning on hosting the 2017 Sacramento Invitational there.
Murray said Sacramento has always been one of the more traditional stops on the PBR tour.
"It is a great building for bull riding," Murray said. "We have had a lot of great events there. It is one where all of the people in the cowboy rodeo industry in California are at."
Oliveira said that night still is one of his favorites of his 10-year career.
"That was one of the more exciting bull ridings," he concluded. "There were big rides. Sometimes you scored higher points and you are more emotional."
In recognition of the final upcoming BFTS event at Sleep Train Arena, PBR.com takes a look back at the Top-10 rides in PBR Sacramento history.
Valdiron de Oliveira rides Buckey for 94 points (2012)
Marco Eguchi rides Priceless for 92.25 points (2012)
Austin Meier rides Shepherd Hills Trapper for 92.25 points (2012)
J.B. Mauney rides Larry The Cable Guy's Git-R-Done for 91.5 points (2012)
Austin Meier rides Moebandy.com for 91 points (2011)
Colby Yates rides Hypnotic for 91 points (2008)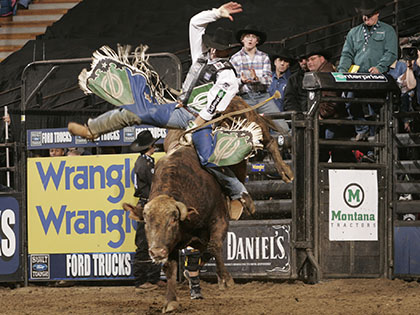 Dustin Hall rides Cow Pix for 90.75 points (2007)
J.B. Mauney rides Hypnotic for 90.75 points (2008)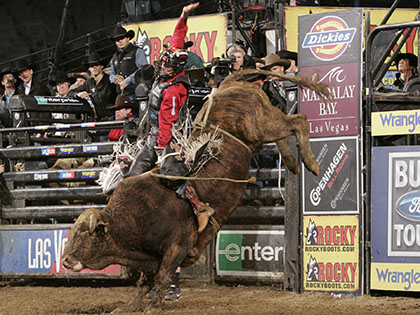 Cory Rasch rides McNasty for 90.5 points (2005)
Guilherme Marchi rides Palm Springs for 90.5 points (2014)
Justin McBride rides All In for 90.5 points (2007)
Follow Justin Felisko on Twitter @jfelisko
© 2016 PBR Inc. All rights reserved.