Wyoming Rockslide Impacts Travel through July 14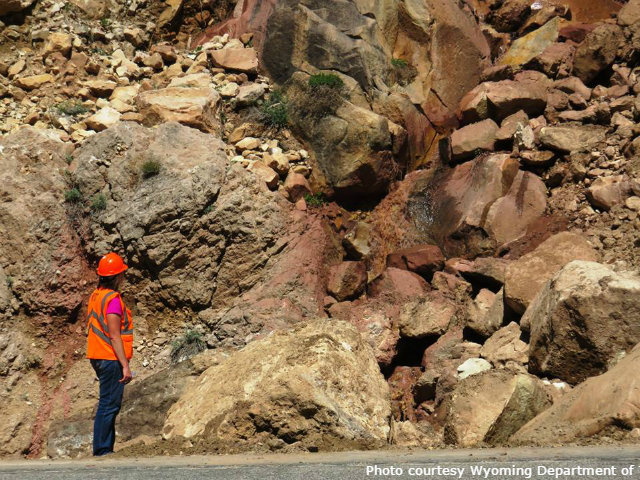 THERMOPOLIS, Wyo. – Cowboys traveling north and south across central Wyoming may be in for a rough ride through July 14 as there was a rockslide along a key stretch of highway for getting from Interstate 80 up to the Cody Stampede and other major rodeos in the northern Rockies.
On May 19, a rockslide happened about 10 miles south of Thermopolis, Wyo., along U.S. Highway 20 between mileposts 121.7 and 122.2 – an area known as Big Windy Curve, according to the Wyoming Department of Transportation.
Travelers should expect traffic delays of up to 40 minutes, six days a week, during the rock/mud cleanup and emergency repair project.
Rocks initially started rolling, sliding, and falling in the Wind River Canyon in early May thanks to the near record-breaking precipitation in the nearby Owl Creek Mountains. WyDOT maintenance crews are monitoring and clearing the roadway of falling rock, mud and additional cracking in the highway's driving surface, which began to appear in mid-May.
A similar rockslide occurred in the same area on the last weekend of May 2015 – turning the four-hour trip from I-80 to Cody into an eight-hour trip. Travelers seeking to avoid this stretch of highway have very limited options for getting across the state:
• Head north from Casper along U.S. Highway 25 and cut across the Bighorn Mountains through Buffalo and into Worland. The route adds about four hours and involves steep mountain passes that could be dangerous for small vehicles towing large trailers.
• Head north from Rock Springs along U.S. Highway 191 through Jackson Hole and Yellowstone National Park. This route adds about three-and-a-half hours of driving – assuming there's no traffic jams from the Parks' four million annual tourists – and a $30 park entrance fee at the gate as well.
Two contractors have begun stability and rockfall emergency repairs to the existing canyon walls on Monday, according to WyDOT.
Travelers through the Cowboy State can monitor road conditions at https://map.wyoroad.info/wtimap/index.html or by calling 511.
Courtesy of PRCA