Clint Cannon – Waller, Texas
5-time WNFR qualifier
2-time RAM National Circuit Finals qualifier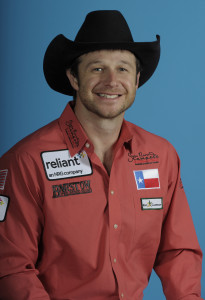 Clint Cannon has a smile that lights up a room and he's had a lot to smile about in the last few years.
He's headed to his fifth Wrangler National Finals Rodeo (WNFR) in 6th place and will have his friend and traveling partner Evan Jayne competing with him. He and his wife Lindsey welcomed their daughter Kaitlyn to their family in June of 2013 and this past June added a son Carson.
His enthusiasm and love of the sport is contagious and he loves any opportunity to promote rodeo and bareback riding and gives back. For the past eight years, he and his family have been hosting the Southeast Texas Bareback Riding School. The only thing Southeast Texas about it is where it is held.
Clint along with other talented bareback riders all donate their time during four days of intense learning for future stars. His dad Jay, and brother Kirby are the backbone of the shool. Pickup man Jeremy Willis donates his time as well as horses and expertise, keeping students safe. And all the students have to worry about is their travel expenses and getting on bucking horses.
This year's WNFR will be a special one for Clint as he watches his nephew Cooper Cannon compete in Las Vegas as well. Cooper has qualified for the Mini Bareback Riding Championships, which will be held in the Wrangler Arena at the Fanzone at Cowboys Christmas. During the day Dec. 4- 7, Clint will be helping 50 kids from 6 to 13 years old in their quest to win a championship in Las Vegas. Then it will be off to the Thomas and Mack arena where he will be working towards his own gold buckle.