J.R. Vezain – Cowley, Wyo.
4-time WNFR qualifier
1-time RNCFR qualifier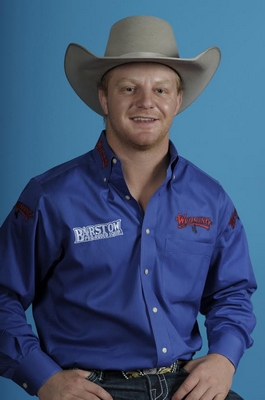 Rodeo fans at the 2015 Wrangler National Finals Rodeo (NFR) missed bareback rider J.R. Vezain whose energetic personality seems to come through every time he competes.
J.R. was poised to make his fourth consecutive trip to Las Vegas to compete at the NFR when he had the worst injury of his career. He was at an invitational event in Cloverdale, British Columbia in May of 2015. A horse flipped over on him in the bucking chute there and folded him in half, breaking his back.
That sent him home to Wyoming for the rest of the season and while the time off wasn't what he wanted, it was what he needed. He bought some cows, rode some colts and spent a lot of time with his fiancée planning their wedding. The most difficult thing about being out of the rodeo arena for this guy was accepting down time. The self-proclaimed busy body had a hard time sitting still, even when the pain kept him on the couch.
The time off gave him a new appreciation for the lifestyle that cowboys get to lead. "I forgot how blessed I am to live this life," he told Jack Nowlin from Wyoming's Casper Star Tribune. J.R. Is now counting those blessings and enters this year's NFR in 11th place with $74,200 in regular season earnings.
He and Shelby got married on June 4. Then it was a busy summer rodeo run and nothing but being busy and back competing could make the former wrestler happier. He now is poised to be in Las Vegas and add to his earnings with Shelby by his side.
Regardless of what happens during 10 rounds in Vegas, J.R. will take none of it for granted. A new appreciation for the life he leads will be evident every time he nods his head.