Wesley Silcox – Santaquin, Utah
7-time WNFR qualifier
1-time World Champion
1-time WNFR average champion
3-time RNCFR qualifier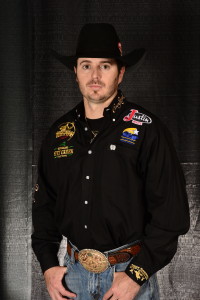 It's been a few years since Wesley Silcox qualified for the Wrangler National Finals Rodeo (WNFR), but this could be his year to clinch his second world championship title.
Wesley grew up in the Utah State High School Rodeo Association, winning the 2002 bull riding title in the state his senior year of high school. Wesley then went on to nationals where he finished fourth. It was a good finish to his amateur career. He joined the PRCA in 2004. He had a good run his rookie season, finishing 30th in the world standings.
The next year he qualified for the Wrangler National Finals Rodeo (WNFR) and was there from 2005 to 2008 consecutively. His world title came in 2007 after he won three of the 10 rounds of competition.
He barely missed a 2009 qualification finishing 16th in the world, and then made it back in 2010 and 2011. Though Wesley rode and had plenty of regular season wins in the following years up until now, he didn't make it back to the Thomas & Mack center until this year.
In the meantime, he has also been raising a family. He and wife Jerika married in 2010 and have a son and a daughter. Like most bull riders, Wesley has had his share of injuries, and some of those have probably kept him from qualifying for the WNFR. Just last October, he dislocated his right shoulder at the Justin Boots Playoffs in Omaha, Neb. He immediately sought help from the Justin Sportsmedicine Team and will be depending on them in Las Vegas.
Wesley has had over eight weeks to rehab his shoulder and get ready for the WNFR. He enters in fourth place with six rodeo wins and two co-championships during the regular season, including the historic Days of '47 Rodeo in his home state.
His current earnings of over $105,000 are expected to rise given how well he has done in the past at the WNFR. He's won at least one round every time he's made the trip to Las Vegas to compete, and in 2007 when he won the gold buckle, he also won the average title.