Baylor Roche – Tremonton, Utah
2-time WNFR qualifier
1-time RNCFR qualifier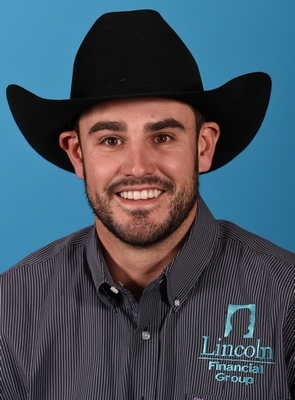 A year ago in October, Baylor and his wife Samantha welcomed their son, Bex, into the family, Baylor was preparing for his first Wrangler National Finals Rodeo and was on top of the world.
He had won the Fort Worth Stock Show & Rodeo early in the season, but still needed a big end-of season push to stay in the top 15. He did that and stayed solid at the Wrangler National Finals Rodeo (NFR) winning $76,243 in Las Vegas and finishing the season in ninth place.
This year, he again started with a big win. It was at the National Western Stock Show Rodeo in Denver where he earned over $10,000. That jumped him up to third place in the world standings. Unfortunately, the rest of the winter and spring weren't as kind to the amiable Utah resident.
He stayed in the top 15, but the middle of August found himself once again on the bubble at 13th. He needed another late-season push to assure him a second trip to the NFR. He got that when he won the Ellensburg (Wash.) rodeo over Labor Day and then the Cowboy Capital of the World Rodeo in Stephenville, Texas, the last weekend of the season.
Baylor enters the 2016 NFR in 10th place with $68,405 in regular season earnings. While that might have gotten him to his second NFR, it was $2,000 short of the $70,000 goal he set last January.
Each new year, he sets new goals and writes them down on a white board. He keeps a picture of them on his phone and works hard all year to cross them off so he can set new ones.
Accomplishing any of those goals takes hard work and that is something he grew up doing. His family farms west of Tremonton and a day at the rodeo is a day off for Baylor. When he is home he is on a tractor, moving hay, building and repairing and doing anything else that needs to be done. If the weather isn't good, he will be in his leather shop making a treasure for someone.
He has a set of goals specific to the NFR and Samantha, Bex, and Baylor's family will be on hand in Vegas supporting him as he works to accomplish them.