Casey Martin – Sulphur, La.
5-time WNFR qualifier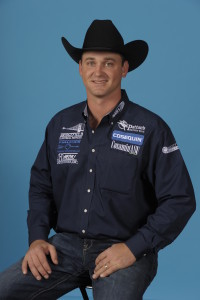 Being a steer wrestler is important to Casey Martin, but it's not what defines him.
Being a good husband and father is much more important. Being able to support his wife and six children doing something he is passionate about is a bonus.
Casey was raised in a large family, with eight siblings. His parents gave them all the opportunity to rodeo and built an arena right on their place. Then they added an outdoor kitchen next to the arena.
That meant there was plenty of time to practice while food was being prepared. All of the family lives nearby and this is a tradition that goes on today. It's not unusual to see Casey giving Shawna a break and loading up some of the children to go to a rodeo with him. For the Wrangler National Finals Rodeo (WNFR) it's a family affair for all of them.
The last three years have been the best of his career where he has finished second, fourth and third in the world standings respectively. He's still waiting for that elusive gold buckle, but his first priority is making a living and taking care of his family.
Casey takes advantage of every opportunity to share his steer wrestling knowledge with future stars. He learned through trial and error with a lot of help from Tom Carney who puts on a steer wrestling school, Steer Wrestling 101, each year right after Thanksgiving.
Tom helped him throughout his career and now Casey is one of several top steer wrestlers that help with the school. While technique is emphasized, attitude is a big part of every steer wrestlers success and Casey can encourage anyone to follow their dreams. He joined the PRCA in 2002. It was five years before he came close to a WNFR qualification. He finished 21st in 2007, then 16th and 20th.
His first WNFR qualification in 2011 began a streak of five consecutive. He has become a fan favorite in the Thomas and Mack Arena – and a good part of those fans are also family.