Josh Peek – Pueblo, Colo.
7-time WNFR qualifier
5-time RNCFR qualifier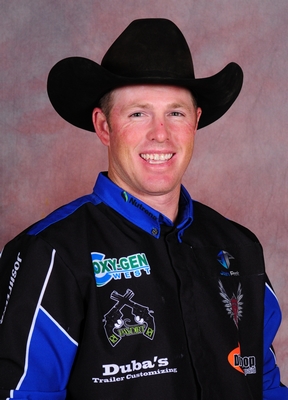 It's been six years since fans have gotten to watch Josh Peek at the Wrangler National Finals Rodeo (NFR), but it isn't because he wasn't trying.
The last time he qualified was in 2010. That was the third of his qualifications in steer wrestling. He also had been at the NFR three times in the tie-down roping. After his success this year, he adds another steer wrestling qualification to the list.
Josh has always wanted to win an all-around world championship and has been in the lead in the standings in that category for most of the year. He has won 13 all-around titles at rodeos this year including the RAM National Circuit Finals Rodeo (RNCFR). He won the year-end tie-down roping at the Mountain States Circuit Finals and won the steer wrestling at the event and will go back to Kissimmee, Fla., to compete at the RNCFR in both of his events next April.
Injuries have been part of his career, but this year they really took their toll the end of the season. He was at his hometown rodeo, the Colorado State Fair in Pueblo, when his latest injury happened. He had lower back pain for the rest of the season and finally was diagnosed with broken ribs.
The injury may have been a blessing in disguise as it gave him time at home with his wife Kori and twins Emry and Keagan who are seven and busy with school. This was especially important as they added a son to their family on Sept. 20, Jagger.
Having a family and the support that goes with it is more important to Josh than anything. He is one of the guys that will drive all night to get home and surprise them. It pays off as they are among his biggest fans. And regardless of what happens in the arena in Las Vegas, the family is making a vacation of this trip and outside of the arena they will be making memories to last a lifetime. He enters this year's NFR in seventh place with $71,397. He is second in the all-around world standings with regular season earnings of $116.603.