Seth Brockman – Wheatland, Wyo.
3-time WNFR qualifier
2-time RNCFR qualifier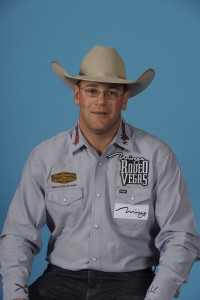 2005 was a breakout year for Wyoming's Seth Brockman and while it was 10 years ago, it's full of memories to last a lifetime.
It was his first year as a PRCA member. It was also the year he won two of the biggest rodeos in his home state with one title that is legendary. Seth earned the championship at the "Daddy of 'em All" in Cheyenne and the Cody Stampede over the Fourth of July that year. Those along with other checks earned him the steer wrestling PRCA Resistol Rookie of the Year Award.
Steer wrestling could be the scariest event at Cheyenne. Cattle are given a 30-foot head start and by the time the competitor gets to them, horses are running full out. Wrecks happen, but they never intimidated Seth, even as a rookie.
That calm, cool, collected composure has served him well through his career. He qualified for his first Wrangler National Finals Rodeo (WNFR) in 2011. He was there again last year and got his first round win.
This year, Seth started the winter off right with a big win at the San Antonio Stock Show & Rodeo that added $23,173 to his earnings. He won the Wrangler Champions Challenge in Spanish Fork, Utah and added another home state win in Sheridan.
He qualified for the RAM Mountain States Circuit Finals Oct. 22-24 and missed winning that championship by a mere $124 behind Josh Peek who had total earnings of $17,639. However, Brockman was able to use that as a warm-up session for this year's WNFR. He's been enjoying time at home but will be heading to Wade Sumpter's house near Fowler, Colo., to start practicing soon. Wade, a six-time WNFR qualifier, will be hazing and providing a horse for Seth to ride.