Trevor Knowles – Mount Vernon, Ore.
13-time WNFR qualifier
7-time RNCFR qualifier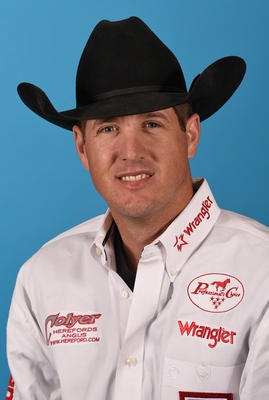 It's hard to imagine the Wrangler National Finals Rodeo (NFR) without Trevor Knowles competing in the steer wrestling, but that almost happened this year.
]Thanks to end-of-season successes, Trevor will be making his 13th consecutive trip to compete in Las Vegas, the most of any of this year's field of steer wrestlers. On August 8th, he was outside of the top 20. A week later, he'd won enough to move up to 18th. Then he won the Caldwell Night Rodeo for the second year in a row. That moved him within striking distance of the top 15.
Trevor kept plucking away earning checks nearly everywhere he went during the last weeks of the season. That was due in part to his 20-year-old equine partner "Earl" who tied for second in the 2014 AQHA Steer Wrestling Horse of the Year category.
When Trevor won Caldwell in 2015, his parents were on hand to watch. This year, they couldn't make it, but Trevor was wearing a Caldwell Night Rodeo buckle from 1979 that his father Jeff had won.
Finishing the regular season in 14th place and earning $58,653 to get to the 2016 NFR has tested Trevor's determination and will power. The highlight of his winter was getting engaged to Jena Lee Venturacci last January.
He spent much of the spring ranching, then hit the rodeo trail again in the summer where he has traditionally had most of his success. Now he and Jena are busy getting ready for the NFR and planning a wedding. And in the midst of everything, they are finding time for Trevor's favorite pastime, hunting.