Shay Carroll – Prineville, Ore.
2-time WNFR qualifier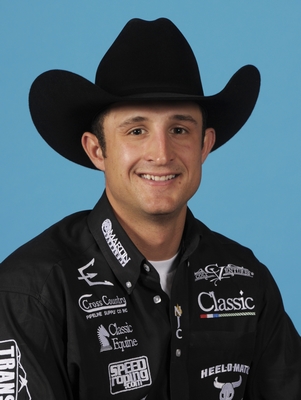 Advancing through the ranks of rodeo is gets harder with every step and very few contestants are successful at every level.
Shay Carroll is one that has accomplished that. He qualified for the National High School Rodeo Finals, then went to Northeastern Junior College at Sterling, Colo., where he qualified for the College National Finals Rodeo. He won the championship in the heeling there in 2010, but it would be four more years before he would qualify for the Wrangler National Finals Rodeo (NFR).
He transferred to Tarleton State University and made his education a priority studying marketing. Then he eased into the ranks of the PRCA setting attainable goals along the way. First was qualifying for the Mountain States Circuit Finals which he did 2012. He won that and got a trip to the RAM National Circuit Finals in 2013.
In 2014, he qualified for his first NFR and roped in Las Vegas with Charly Crawford. This year he has been roping with another college champion Kolton Schmidt who won the heading at the CNFR in Casper, Wyo., in 2015.
Through all the stages of rodeo, Shay has depended on the lessons he learned from his father Dick Carroll and grandfather Truett Carroll. They both competed in the PRCA as tie-down ropers. When Shay was growing up, he would come home from school activities and his grandfather would have his horse saddled and ready for him to practice. A highlight of his first NFR was having those two men in the stands. This year's event will be a little bittersweet as his grandfather passed away in 2015. However, he will have plenty of family and friends supporting him. His wife Tyesha will be at the helm of this roper's cheerleaders.