Travis Woodard – Stockton, Calif.
1-time WNFR Qualifier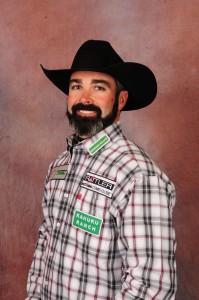 Team roping fans have been waiting a long time to see Travis Woodard at the Wrangler National Finals Rodeo (WNFR).
Travis joined the PRCA over a decade ago in 2002 and for roping fans there was little doubt that he would be roping on rodeo's biggest stage soon. He won the very prestigious Bob Feist Invitational Roping with Mikey Fletcher in 2003 and became one of the youngest champions in the roping's 37-year history.
Prior to this year, the highest that Travis had finished in the world standings was 24th in 2004. The son of 2-time world champion heeler Walt Woodard, Travis literally grew up with a rope in his hand. With career earnings closing in on half a million dollars, it just may be that his time has come.
Travis and his dad have built a facility near Stephenville, Texas, designed specifically for training team ropers. They offer individual and group lessons and cover more than just roping. Walt has been a role model and is known for having a positive attitude. Travis is following in his father's footsteps in that regard as well.
This year started off with a big win at the San Antonio Stock Show Rodeo where Travis was heeling for Kaleb Driggers. They each collected over $21,000 and because of that money, Travis decided to hit the rodeo trail and try to make the WNFR. He will be roping in the Thomas and Mack Center with two-time world champion header, Matt Sherwood, who just nine years ago was roping with Walt at the WNFR.
Since Travis bought his membership, he has lost 30 pounds and has changed his lifestyle. His wife Rachel is a fitness instructor and helps Travis stay in shape. They work very hard at making healthy choices and are raising their family that way. They have a two-year-old son and welcomed a baby girl into their lives in October.