Ryle Smith – Oakdale, Calif.
1-time WNFR qualifier
5-time RNCFR qualifier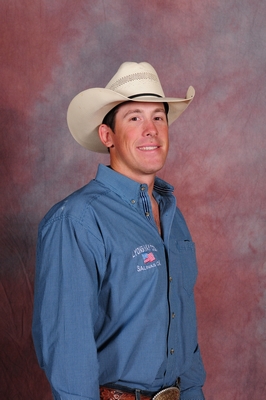 The road to Ryle Smith's first Wrangler National Finals Rodeo (NFR) qualification has been full of twists, turns and Trouble.
He made it this year thanks in part to that "Trouble". Trouble With Chicks has been his main horse this year and the one that he will be riding at the NFR. He knows the horse and the horse knows Ryle. Their relationship started when Ryle was a student at Tarleton State University in Stephenville, Texas, and Trouble was a prospect.
Having a bachelor's degree was so important to Ryle that he waited to join the PRCA until he graduated. He earned an ag business degree from Tarleton, where he was part of the contingent that qualified for the College National Finals Rodeo. He joined the association in 2010.
He was the most successful tie-down roper at the National High School Rodeo Finals in 2005. He can't ever remember a time when he didn't want to rodeo. He's won a lot of all-around titles competing in steer wrestling as well as tie-down roping.
This season got off to a great start when he and Trouble finished at the top of the leader board at the Fort Worth Stock Show & Rodeo. It was the biggest win of a career that boasts over a quarter of a million dollars in earnings. The money from Fort Worth set him up for regular season earnings of $67,322 to qualify for the NFR in 13th place.
Ryle also won the tie-down and all-around championships at the California Circuit Finals Rodeo. He and his wife, Danika, will be planning a trip to Florida next April for him to compete at the RAM National Circuit Finals for the fifth time.
With his family from California, his ties to Texas from college and his rodeo travels, Ryle has a lot of fans that have just been waiting to see him ride into the Thomas and Mack Center. On Dec. 1, that wait will be over.