Trevor Brazile – Decatur, Texas ($92,772)
31-time WNFR qualifier
23-time World Champion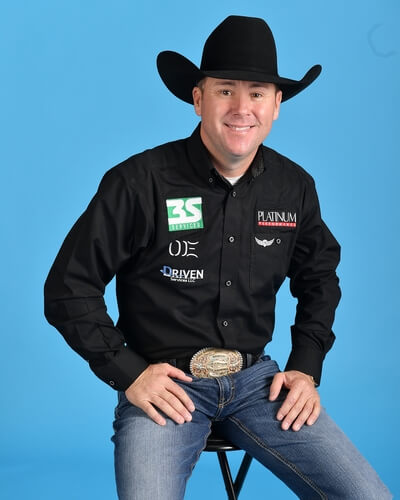 To say that Trevor Brazile's rodeo career is remarkable just might be an understatement.
When Trevor nods his head for them to release a calf at the 2018 Wrangler National Finals Rodeo, it will be the 171st calf that he has competed on in the Thomas and Mack Center.
He is headed to his 18th NFR in tie-down roping in sixth place with $92,772 won during the regular season. He has competed there in the team roping an additional 13 times. And, for 13 of those years, he has left with rodeo's ultimate prize – the all-around world champion cowboy buckle.
Trevor is second in this year's all-around race behind his brother-in-law Tuf Cooper who won it last year. This year, like last year, they both competed at the Clem McSpadden National Finals Steer Roping. The all-around title is going to come down to the most money won in the tie-down roping.
While winning never gets old for the talented Texan, it is not is only focus now. As rodeo's biggest star, he has sponsor and business obligations that were never part of his early career. And then there is his main focus – his family.
Trevor and his wife, Shada, have three children. Treston, who is the oldest will celebrate his 11th birthday on December 1. Treston has two younger sisters, Style, who is 8 and Swayzi, 3. They are the light of his life and he has been known to take some time away from the arena to watch the kids compete in other sports.
His year didn't start out like was expected. He was 20th in the tie-down roping world standings in mid-April, then dropped down. Prior to the Fourth-of-July "Cowboy Christmas" run, his name still wasn't on the list. Then he won the Ponoka (Alberta) Stampede, got some checks at other rodeos and jumped up to 10th.
Trevor continued to earn all-around, steer roping and tie-down roping titles at rodeos across the country. He got big tie-down roping wins at the Sheridan WYO Rodeo in July and Caldwell (Idaho) Night Rodeo in August. Rodeo in the summer is his favorite time of year as the family gets to go with him. In the fall when they start school, they head home and he heads to more rodeos.
It's a balancing act for Trevor and his family. But one that has paid off with another trip to Las Vegas for all of them.
Presented by: