Bloom Wins Clark County Fair & Rodeo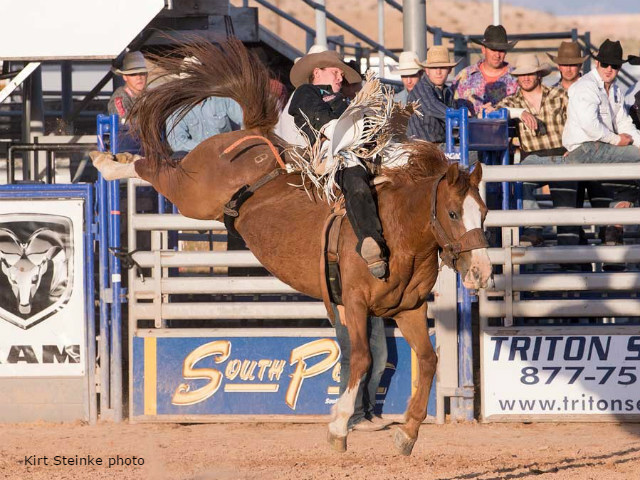 LOGANDALE, Nev. – Bareback rider Wyatt Bloom's rookie season is off to a booming start.
The grand total of $6,280 he won at the Clark County Fair & Rodeo is pushing him even further ahead of his competition in the PRCA Resistol Rookie Standings and could be just the boost he needs to burst the bubble and get into the Top 15 of the WEATHER GUARD® PRCA World Standings.
"I'm just overwhelmed, because I try to take it one rodeo at a time and not get too caught up in the standings," Bloom said. "I know there is a lot of season left, and while my goal is to make the Finals, I just want to keep making solid rides to stay in the hunt for the NFR."
Bloom kicked off the Logandale rodeo by winning the first round with an 84-point ride on Bridwell Pro Rodeos' Caddy Wagon, despite some equipment issues with his bareback rigging.
"I'm really fortunate it worked out," Bloom said.
Winning Logandale brought this 23-year-old Oregon cowboy a bit of redemption as his 84.5-point ride on another Bridwell horse, Beaver Fever, in the final round sealed the deal for winning the average.
"The last time I got on that horse, he made me do two cartwheels," Bloom said. "That was a couple of years ago in Canby, Ore., when I was on my permit."
Bloom led the 2016 RAM Columbia River Circuit standings by more than $10,000 while still on his permit and he's on track for a repeat performance his rookie year.
Prior to his win in Logandale, Bloom was No. 16 in the world standings with $19,545 – only a few hundred dollars shy of making it into the Top 15.
"I've been working towards it for a while," Bloom said. "I'm pretty tickled about it."
Although Bloom comes from a family of ropers, he found his niche on the roughstock end while trying to earn all-around points in high school.
"Roping is fun, but it's just a good feeling when you make a good ride on the back of a bucking horse and ride something that bucks hard and gets in the air – I like roller coasters and stuff like that," Bloom said. "I try not to take it all for granted, just keep pushing forward; I just love to rodeo and am excited to be doing good, on top of it."
Up next, Bloom is heading to the Red Bluff (Calif.) Round-Up, which is set for April 21-23. From there, Bloom has his sights set on competing in both Canada and the U.S.
"I figured I might as well, I live in the North anyway," Bloom said. "I want to rodeo on both sides of the border."
Some time close to home would be nice for Bloom and his newlywed wife, Raegan Bloom, he said.
Other winners at the $246,373 rodeo were all-around cowboy Trevor Brazile ($3,593 in tie-down roping and team roping), steer wrestler Dakota Eldridge (15.8 seconds on three head), team ropers Dustin Egusquiza/Kory Koontz (16.1 seconds on three head), saddle bronc rider Rusty Wright (163 points on two head), tie-down roper Tim Pharr (26.7 seconds on three head), barrel racer Amberleigh Moore (34.42 seconds on two runs) and bull rider Garrett Smith (176 points on two head).
For more coverage of the Clark County Fair & Rodeo, check out the April 28 issue of the ProRodeo Sports News.
Courtesy of PRCA