For the Record: Deadwood Days of '76 Rodeo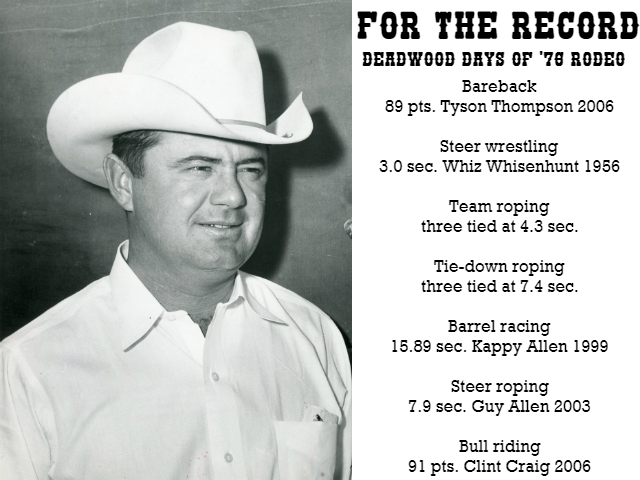 Whiz Whisenhunt's 3.0-second record time at the Deadwood (S.D.) Days of '76 Rodeo is nearly as old as the rodeo itself.
Since 1924, many arena records have been set, but no bulldogger has topped Whisenhunt's 1956 mark. Not even the Deadwood record-holder for the two-run average, Tyler Haugen, came close to topping this now 61-year-old record time when he went for 7.5 seconds on two in 2009.
This year's Deadwood Days of '76 Rodeo kicked off July 26 and concludes on Saturday – and every ride is a chance to top one of this iconic rodeo's arena records.
Deadwood's record for total payout was set last year with $229,074.
Trevor Brazile holds the Deadwood record for most money won in all-around with $6,694 won in 2006.
Bareback rider Tyson Thompson has had the Deadwood record since 2006 with his 89-point ride.
Three sets of team ropers share the Deadwood arena record of 4.3 seconds. Originally set by Derrick Begay and Victor Aros in 2008, their 4.3-second record was matched by Trevor Brazile and Patrick Smith in 2009. Seven years later, Cody Snow and Dugan Kelly made the same time in 2016. Meanwhile, the two-run average record of 9.5 seconds was set by Keven Daniel and Kory Koontz in 2009.
Saddle bronc rider J.J. Elshere set the Deadwood record in 2008 with his 90-point ride.
There's also a three-way tie for the tie-down roping arena record. Originally set by Cody Ohl in 2000, his 7.4-second run was repeated by Boe Brown in 2013 and Jason Schaffer in 2014. While Ohl was setting the single-run record, he also set the two-run average record in 2000 by clocking in at 15.0 seconds on two runs.
Barrel racer Kappy Allen's 15.89-second record has been at the top since 1999.
Steer roper Guy Allen holds two Deadwood arena records. First, he set the three-head average record in 2000 by going for 29.2 seconds on three. Three years later, Allen returned to Deadwood and set the single run record time of 7.9 seconds in 2003.
Bull rider Clint Craig set the Deadwood record in 2006 with his 91-point ride.
Courtesy of PRCA