Gray Surges with Timely Ellensburg Win
by Justin Shaw | Sep 05, 2016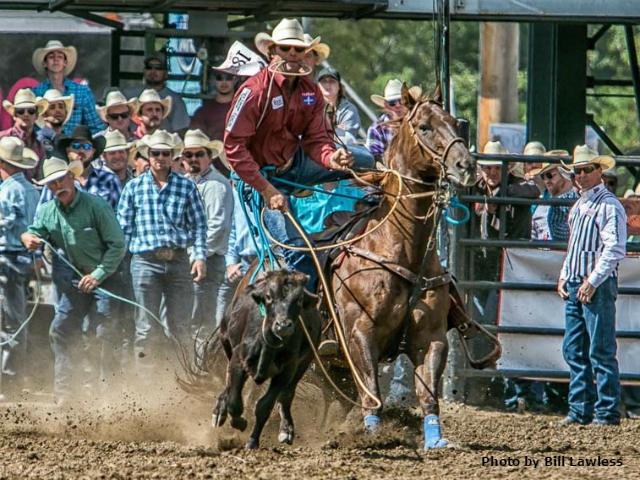 ELLENSBURG, Wash. – Tie-down roper Adam Gray has a new perspective about being on the bubble when the rodeo schedule turns to September.
His new outlook led to a gigantic win at the Sept. 2-5 Ellensburg Rodeo.
Gray won the three-head average with a time of 26.8 seconds, earning a victory lap and checks totaling $6,458. He entered the weekend 21st in the WEATHER GUARD® PRCA World Standings, and his haul should move him close to the top 15.
"In the past, being in this position in September had me biting my fingernails and stressed out way too much," Gray said. "Now, I'm completely over that. I'm just trying to have fun, and that seems to be working better than biting my fingernails."
The 32-year-old from Seymour, Texas, has been to the Wrangler National Finals Rodeo presented by Polaris RANGER four times (2009, 2011-12, 2014), but missed the cut last season when he finished 17th in the world.
He was the final call back in the Sept. 5 short round, and knew he only had to beat 10.1 seconds to win the average title.
Announcer Justin McKee laid the pressure on thick when Gray was backing into the box, letting he and the crowd know it was a must-win situation.
"My heart was racing a bit," Gray said. "Not that I didn't know all that stuff already, but it was nice of Justin to put the pressure on me. I try to tune it out, but there's always things you hear in the box. But once I nod, I don't hear anything."
Gray's 9.2-second run in the short round was more than enough to clinch the average title. However, he knows this is just the first step in what must be a big September run.
"It was a must-win if I wanted to make the Finals; I knew that," he said. "I was 28th when I came to the Northwest, and didn't think I had a realistic chance to make it. I've been winning a bit lately, so now I have a chance. But none of it matters if I don't keep winning. Winning has made it fun again, and hopefully it works out and I make the Finals."
The 2012 WNFR average champion isn't sweating this late-season run on the bubble, and isn't concerned about finishing outside the top 15 like he did in 2015.
"Last year is in the past, and was a totally different set of circumstances," Gray said. "I'm worried about roping at Lewiston (Ore.) and Puyallup (Wash.) this week, so that's what I'm focused on. But it goes without saying that I'd rather be at the NFR than watching it on TV."
Other winners at the $327,183 rodeo were all-around cowboy JoJo LeMond ($2,630 in team roping and steer roping), bareback rider Teddy Athan (164.5 points on two head), steer wrestler Baylor Roche (14.4 seconds on three head), team ropers Erich Rogers and Cory Petska (18.3 seconds on three head), saddle bronc rider Cody DeMoss (168.5 points on two head), barrel racer Nellie Miller (51.92 seconds on three runs), steer roper John Bland (27.0 seconds on two head) and bull rider Tyler Smith (163.5 points on two head).
For more coverage of the Ellensburg Rodeo, check out the Sept. 23 issue of the ProRodeo Sports News.
Courtesy of PRCA