Jacobs Crawley Captures Pueblo WCC Event
by Tracy Renck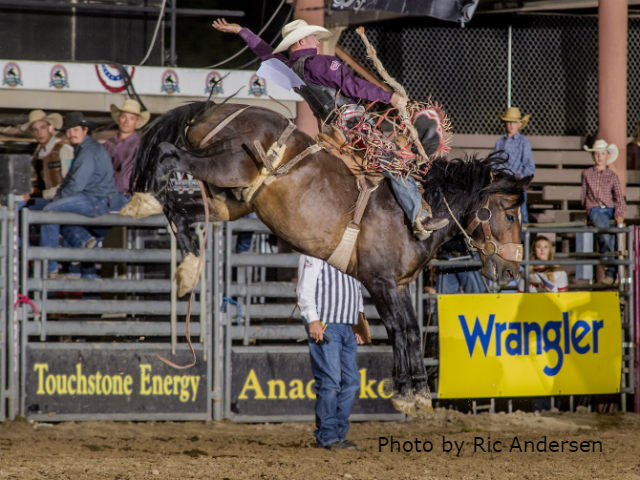 PUEBLO, Colo. – Sometimes after a gold buckle season the next year can be a struggle.
That hasn't been the case for 2015 world champion saddle bronc rider Jacobs Crawley.
Crawley has been riding a tidal wave of momentum all year and that continued at the Wrangler Champions Challenge presented Wednesday night.
Crawley of Team ProRodeo Hall of Fame had an 87.5-point ride on Harry Vold Rodeo's Happy Valley.
"I've been on that horse a couple of times and I've never cracked 80," Crawley said. "It was nice to get a ride like this. It felt good. She kind of got me on one jump just because she is strong, but luckily I was able to get back in position and finished with a really strong ride at the whistle."
Crawley was first in the Aug. 29 WEATHER GUARD® PRCA World Standings, with $152,791 and he earned $3,944 for his performance in Pueblo.
"This year has been great," said Crawley. "I've been able to stay healthy for the most part and that's important in our deal and I have a little brother (Sterling) who is trying to get back to the NFR this year and he's kind of been the driving force as far as we're not letting up any because he's still on the bubble. We're staying out there hard at it and we're not going to quit until Oct. 1."
The PRCA regular season concludes Sept. 30. Sterling, who qualified for the Wrangler National Finals Rodeo presented by Polaris RANGER in 2012-13, was 12th in the Aug. 29 standings. Sterling won the Colorado State Fair & Rodeo Aug. 30 in Pueblo with an 84.5-point ride on Silver Creek Rodeo's Broken Kettle. He earned $3,920 for his effort.
This was Jacob's Crawley's first WCC event win this season and the third of his career. He has victories at Amarillo, Texas (Sept. 17, 2014), Kissimmee, Fla., (Oct. 3, 2015), and now Pueblo.
"These Wrangler Champions Challenge events are big," Jacobs said. "You have the best horses from several stock contractors and you're going against the best guys. It makes you step your level up. You're only as good as your competition. It definitely pushes a guy try and be his best. I also enjoy the team concept of these events. We get to pull for different guys at the rodeo and it's kind of cool."
Other winners at the $92,800 rodeo were bareback rider Orin Larsen of Team Coors (88.5 points on Hi Lo Rodeo's Wilson Sanchez), steer wrestler Josh Peek (3.6 seconds) of Team Experience Kissimmee, team ropers Kolton Schmidt/Dakota Kirchenschlager (5.6 seconds) of Team Kissimmee, tie-down roper Cory Solomon (8.7 seconds) of ProRodeo Gear, barrel racer Stevi Hillman (17.14 seconds) of Team Experience Kissimmee and bull rider Sage Kimzey (86.5 points on JK Rodeo's Reaper) of B&W Trailer Hitches.
Larsen's score was new WCC bareback riding high score, breaking the mark of 88 points shared by Steven Peebles and Tim O'Connell. Kimsey also increased his WCC all-time record win total to eight. He also has won three WCC events in a row at Cody (Aug. 14), Kennewick (Aug. 23, a title he shared with Roscoe Jarboe) and Pueblo.
For more coverage of the Pueblo (Colo.) Wrangler Champions Challenge presented by Justin Boots, check out the Sept. 23 issue of the ProRodeo Sports News.
Courtesy of PRCA