Nogueira's All-Around Title Headlines Round 10 Madness
by ProRodeo.com | Dec 11, 2016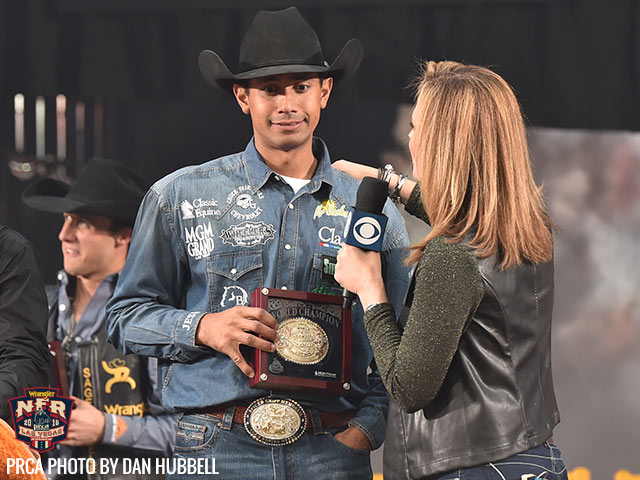 LAS VEGAS – It's party time in Brazil – and for good reason.
A country with deep rodeo roots finally has its first world champion in Junior Nogueira.
The team roping heeler won the all-around gold buckle during the 10th and final night of the Wrangler National Finals Rodeo presented by Polaris RANGER.
"I'm very happy, and not just for myself, but for my family, friends and everyone in Brazil," Nogueira said. "I hope this gives kids in Brazil, and around the world, inspiration that anything is possible if you put your trust in God."
The 26-year-old native of Presidente Prudente, Brazil, combined with his heeler, Kaleb Driggers, to place sixth in Round 10, which was enough to earn Nogueira the gold all-around buckle.
Nogueira's season total of $231,728 earned him the title by less than $4,000 over steer wrestler Clayton Hass. However, he was upset that he and Driggers didn't win the team roping world titles – they both finished second in the world.
"We had a good week, but I didn't rope as good as I usually do," Nogueira said. "But this is motivation for us to get back next year and win it."
On a night filled with wild surprises at the Thomas & Mack Center, one thing remained the same – Sage Kimzey is the best bull rider in the world.
The Strong City, Okla., cowboy captured his third straight gold buckle thanks to placing third in the final round, and third in the WNFR average.
"It's the greatest feeling in the world, and something I've worked for my whole life and seeing it pay off is great," Kimzey said. "It's just a life-long dream I've worked on for years."
This world title was harder to come by than the first two for the 22-year-old. Last year, he clinched the gold buckle in Round 9, but this time, it came down to the last few rides, as he battled childhood friend Brennon Eldred until the last ride.
"It's one of those deals where I wasn't riding up to snuff, and some bulls didn't let me place, and some slipped through my grasp," Kimzey said. "It was a rough Finals from the second round to the 10th; but it was a good fight, and I like that because it shows the character of yourself and what you are made of as a man."
Levi Simpson and Jeremy Buhler made history by simply qualifying for the WNFR. What they did Saturday night sent shockwaves throughout the entire rodeo world – namely Canada.
The first-ever pair of Canadian team ropers to compete together in the Thomas & Mack Center became the first-ever Canadian world champions in their event.
"We knew there was a mathematical chance, but with the guys roping behind us, we figured we'd win some money, and that was it," Simpson said. "Then we won the average, and I was jumping for joy."
"I can't believe it … the field of ropers that's here and that we rope against all year … I can't believe we won," Buhler added.
Simpson entered Las Vegas ranked 14th in the world heading standings, and Buhler was 12th in the heeling standings. That just made their run to the title that much more improbable.
The duo's 4.3-second run in Round 10 split the win, and moved them from outside the Top 5 in the world standings to the top spot.
They also won the WNFR average with a nine-head time of 54.2 seconds, and set the record for team roping earnings in a season ($249,133 for Simpson, and $258,311 for Buhler).
"This is close to the day my daughter was born," Simpson said, looking at his partner. "Are you shaking? I'm shaking. I've never had this much excitement."
Not to be outdone by his fellow countrymen, Zeke Thurston pulled off a stunner of epic proportions in Round 10, bringing the saddle bronc riding world title back to Canada for the first time in 14 years.
The Big Valley, Alberta, cowboy split third place in Round 10, and when defending World Champ Jacobs Crawley missed his horse out, Thurston completed the comeback, edging Crawley by less than $3,000 for the world title and collecting the WNFR average title for good measure.
"I can't even tell you how I feel, there's no feeling to compare it to," said the 22-year-old Thurston. "I didn't know if it (winning the world and average) was true or not at first, but in the hallway the camera crew told me, and they were right. It's a beautiful buckle – to get the average at the NFR is a big deal, but the world is huge."
The last time a saddle bronc rider representing Canada won the world was when ProRodeo Hall of Famer Glen O'Neill did it in 2002.
"I knew there was a chance, and everyone has a chance – but to realistically have a shot, I knew I had to ride good and be consistent," Thurston said. "The horse I had (Andrews Rodeo's Fire Lane), I knew I could place good, and luckily it worked out. She has been around a long time, and does the same thing every time – she circles to the left."
Tim O'Connell completed one of the most historic bareback riding seasons in PRCA history with two buckles and one proud state of Iowa.
There has only been one PRCA world champion from the state of Iowa – bareback rider Paul Mayo in 1966. Mayo was from Grinnell, Iowa, which is 150 miles from O'Connell's hometown of Zwingle.
"It feels amazing – I'm humbled and blessed to have my name on that wall of champions with all the other names up there," O'Connell said. "To be the second one from Iowa … there aren't words that can describe what that means."
O'Connell led for the majority of the regular season, and while he only took one go-round victory lap during the 10 days of the WNFR, his consistency earned him both the gold buckle and the WNFR average title.
He earned checks in eight of the 10 rounds, taking the average title with a score of 842 points on 10 head – which was 27 points clear of the rest of the field. O'Connell earned a total of $374,272, a new bareback riding single-season record.
"It puts my mark down that this was my year, and I didn't leave any doubt about it," he said. "But that takes nothing away from those other 14 bareback riders, because that is the best group of bareback riders that has ever hit this building. You can go back and look at the scores throughout the 10 nights – you wouldn't find a ranker bareback riding every single night."
Steer wrestler Tyler Waguespack entered the WNFR ranked third in the world standings, but it was clear who the best bulldogger was over the 10 nights in Las Vegas.
The Gonzales, La., cowboy left the Thomas & Mack Center with both his first gold buckle and WNFR average title.
"This is something I've worked for since I was little kid," Waguespack said. "Every day when I came home from school, my dad (Mike) and I got in the practice pen, and all the long hours and all the years of practice finally did pay off. I'm going to talk to my dad as soon as I can."
Waguespack ran away with the WNFR average title, beating the field by nearly eight seconds with a 10-head time of 41.9 seconds.
When the dust settled, the world standings weren't close, either. Waguespack finished with $298,676 – more than $70,000 clear of second-place Matt Reeves.
"I like the sound of that," Waguespack said of hearing himself announced as world champion. "I'm not normally short on words, but I really like the sound of that."
Waguespack also took home the RAM Top Gun award, which goes to the WNFR competitor who wins the most money over the 10 nights in one event.
His earnings total of $213,218 was nearly $18,000 more than O'Connell, and more than $20,000 clear of Shane Proctor, who won the bull riding average title.
Tie-down roper Tyson Durfey entered the WNFR ranked 14th in the world standings, and wasn't necessarily one of the favorites to win his first gold buckle.
He worked his way up the standings by placing in six rounds, and when he split third in Round 10 with a 7.4-second run, Durfey finished off an incredible run to the world title.
He finished second in the WNFR average with a 10-head time of 94.0 seconds, and finished less than $4,000 ahead of Marcos Costa in the world standings.
"I thought I had to win first or second in the round to win the world," Durfey said. "I really thought after Hunter (Herrin) went and got close to me in the average and Marcos (Costa) was 7.4, I just didn't see any possible way that it could happen (win the world championship). I didn't crunch numbers because I knew that would just put more pressure on me. This is unbelievable. I'm usually a really good communicator, and I'm in awe of what happened."
Durfey and his wife, Shea, had their first child, daughter Praise Royal, Sept. 1. Now, he has a gold buckle, and life is good.
"So much work has been put into this," Durfey said of being a world champ. "I've been dreaming about this since I was a little kid. I used to wake up at 4 o'clock in the morning and practice before school, and then rope until midnight. This is just incredible."
Barrel racer Mary Burger finished off a storybook season with her second world title, 10 years after the first time she won the gold buckle.
The 68-year-old earned a total of $277,554, which was enough to hold off Amberleigh Moore by nearly $11,000.
"You know, I kept hearing from everyone that I have been an inspiration and it has meant so much to me," Burger said. "It's really all God's plan, and I'm liking His plan. I am so proud."
Burger and her horse, Mo, led the world standings for most of the season, and capped it with the ultimate prize.
"It was an amazing year," she said. "One that is hard to imagine, really, with setting a lot of new records, coming into the Finals with the No. 1 back number. Everybody has been so kind. I'm so glad they are proud of me and Mo."
Courtesy of PRCA