Sterling Crawley Snares West of Pecos Crown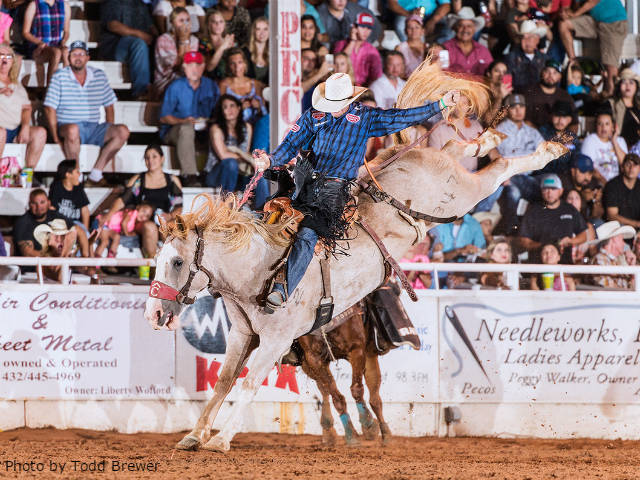 PECOS, Texas – This was quite a hectic 24 hours for veteran saddle bronc rider Sterling Crawley.
Crawley won the West of the Pecos Rodeo with an 85.5-point ride on Pete Carr Pro Rodeo's Miss Molly, and then a brief time later he placed third in the Reno (Nev.) Rodeo.
Crawley, a three-time qualifier for the Wrangler National Finals Rodeo (2012-13, 2016) made his winning ride in Pecos on June 23 and then drove nearly 21 hours and added to success in Reno June 24, placing third in the three-head average with 241 points.
"That ride was a lot of fun," said Crawley about his trip on Miss Molly. "I had a that horse a couple of years ago (in Lovington, N.M.) and I was kind of fighting equipment, so it's really good to get on her now when everything is feeling good. The summer is kicking off and it's really good to start getting money coming in before the Fourth (Of July) so I can start making a push again for the NFR."
This was Crawley's inaugural West of Pecos Rodeo victory and he won $3,892 for his performance. At Reno, he went to the pay window again for $3,620. A big boost for Crawley who was 13th in the June 19 the WEATHER GUARD® PRCA World Standings with $30,507.
"It's awesome to win this Pecos Rodeo," said Crawley, a Texas native who lives in Stephenville. "We used to go youth rodeos in Pecos when we were little kids and ride steers and rope and it's just feels great to win at Pecos. We got to Reno 30 minutes before we had to ride and feels awesome to place there. Every little bit helps and it just feels good to feel good. I just want to stay the course and do the best job I can and keep my mind right."
Crawley's traveling with his brother, Jacobs Crawley, the 2015 PRCA Saddle Bronc Riding World Champion, and Bradley Harter. Jacobs finished in a tie for second with Chet Johnson at Pecos as each had 85-point rides.
"We rode last night (June 23) in Pecos and then we got in the car and we drove straight through to Reno," Sterling said. "We stopped and got fuel and ate gas station food until we got to Reno. It always good when you drive that many hours and your placing at rodeos."
Like so many cowboys, Crawley's schedule is jam-packed right now and that suits him fine.
"I ride in Ponoka (Alberta) June 28 and then drive over to Williams Lake, British Columbia (on June 29) and then fly to Prescott, Ariz. (June 30) and back up to St. Paul, Ore. (July 1)," Sterling said. "I love this rush of getting to compete in all these rodeos and getting to see places in the world you would never get to see."
Other winners at the $203,777 rodeo were all-around cowboy Will Centoni ($2,767, saddle bronc riding and bull riding), bareback rider Jamie Howlett (88.5 points on Pete Carr Pro Rodeo's Dirty Jacket), steer wrestler Tyler Waguespack (9.7 seconds on two head), team ropers Chad Masters/Travis Graves (12.9 seconds on two head), tie-down roper Marcos Costa (18.3 seconds on two head), barrel racer Hailey Kinsel (17.65 seconds), steer roper Brent Lewis (36.1 seconds on three head) and bull rider Lex Oakley (87.5 points on Pete Carr's Classic Pro Rodeo's Lineman).
For more coverage of the West of Pecos Rodeo check out the July 7 issue of the ProRodeo Sports News.
Courtesy of PRCA