Ty Breuer – Mandan, N.D.
2–time WNFR qualifier
2–time RNCFR qualifier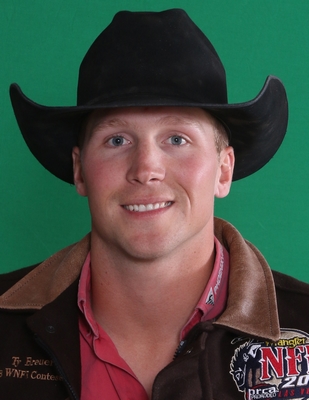 Mandan, N.D., couldn't be any prouder of their native son, Ty Breuer who has qualified for his second Wrangler National Finals Rodeo (NFR).
Three years ago, Ty made his debut at the NFR and it didn't go as he had planned. He placed in the first round, then two nights later severely injured his elbow. That required surgery and he was out the next three months. In spite of that, he finished 18th in the world in 2014.
The 2010 college champion again came up short in 2015 finishing in 21st. This year, he was in the top 15 in January and stayed there consistently. He finished the regular season in 12th place with $71,118 in earnings.
A highlight for his hometown and for Ty this summer was winning the Mandan Rodeo Days with an 85.5-point ride on Sankey Rodeo's Sozo. Then, he went on to win both the Badlands Circuit Finals and their year-end championship to qualify for the RAM National Circuit Finals. This is his third opportunity there, but only his second time to compete as the 2014 injury kept him out.
Ty's a cowboy through and through and his perseverance has paid off for him in and out of the arena. He has been mentored by 1992 world champion bareback rider Wayne Herman, the only man to win a gold buckle in this event from their state.
On Oct. 29 of this year, he changed his status from single to married after he and fiancée Kelli said "I do." Ty travels with his younger brother Casey who finished 20th in the world standings this year. Whenever they aren't at rodeos, this duo returns to Mandan as often as they can where they can always stay busy on the family ranch.