Ty Breuer – Mandan, N.D. ($91,558)
4–time WNFR qualifier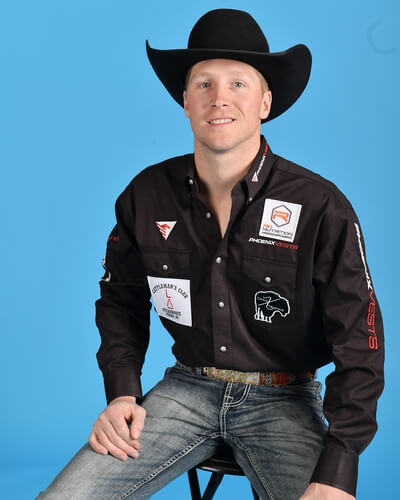 Ty Breuer will be back riding bareback horses at the Wrangler National Finals Rodeo for the fourth time. With more than half a million dollars in career earnings, the native of Mandan, North Dakota, will be trying to add to that total during the 10 rounds of competition in Las Vegas.
Ty first qualified for the finals in 2013. He missed qualifying in 2014 and 2015 because of injuries but, since 2016 he's been a regular at the Thomas & Mack Center.
Last year's trip to Las Vegas was a bit rushed since Ty and his wife Kelli were brand new parents. Their daughter was due during the 2017 WNFR, but when Kelli went to the doctor for her checkup on November 9, the decision was made to deliver the baby.
The Breuer's welcomed Kayd Lee into the world two days before the baby shower was scheduled. They hadn't put the car seat into the car and didn't have a bag packed, but the nursery was mostly ready. Since Kayd didn't wait for all that, Ty and Kelli played catch up as brand-new parents.
This year's pre-finals schedule should be a bit less stressful. The couple celebrated their second anniversary on October 28 and Kayd will turn a year old less than two weeks later.
Last year Ty entered the finals in 14th place, but he won more than $56,000 during the week, including first place in round 4 with a 90.5-point ride on Brookman Rodeo's Risky Business. That bumped him up to seventh by the end of the finals.
He's looking to do as well or better this year in Las Vegas. Ty also won his third consecutive Badlands Circuit Finals Rodeo in October and qualified for his third RAM National Circuit Finals Rodeo in Kissimmee, Florida, in March.
Presented by: