Clayton Foltyn – El Campo, Texas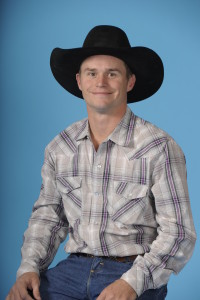 Clayton Foltyn knows how to make an entrance. He joined the PRCA in 2004 and that year was not only bull riding rookie of the year, he snagged the overall and all around titles as well.
He qualified for his first Wrangler National Finals Rodeo (WNFR) the very next year and finished fourth in the world in the all-around and sixth in the bull riding standings. He finished 19th in the bareback riding standings, nearly making it in two events.
Though Clayton has competed steadily every year since, he's only made the WNFR one other time in 2011. He came close to a third qualification finishing 17th in the world in the bull riding in 2013.
This year, he'll be making a long-awaited trip back to the Thomas and Mack Center. He had help getting there when he won the Reno (Nev.) Xtreme Bulls event. Clayton has been more than lucky in Reno. This was his third time to win the Xtreme Bulls there. He also won the title in 2008 and 2010. He earned $16,945 this year, a significant part of the $65,250 in earnings that has him in 10th place heading into the WNFR.
Qualifying for this year's WNFR has special meaning to Clayton and his family. Every year, past WNFR contestants and personnel who have lost their lives are honored during the opening ceremonies on memorial night. This year, Clayton's grandfather will be one of the honorees. Dickey Cox qualified for rodeo's championships four times, between 1963 – 1970. Clayton's mother, Carola Foltyn, is Dickie's daughter.
Clayton's rodeo roots run deep and the whole family has been involved. His father, Lane, also rode bulls and has been a huge influence in his son's career. Lane has been involved in ranching and stock contracting in the years since retiring from action, and Carola roped growing up. His brother Justin also competes in the bull riding and bareback riding. Clayton's wife Kala is the sister of 2013 WNFR bull riding qualifier, Cooper Davis. He will be competing this year against his cousin, Reid Barker.
Clayton is one of those rodeo cowboys to have persevered through the years, and though he's the oldest of the field at 30, he has said he's feeling stronger than ever and surely is not to be counted out in Las Vegas.