Ty Wallace – Collbran, Colo.
2-time WNFR qualifier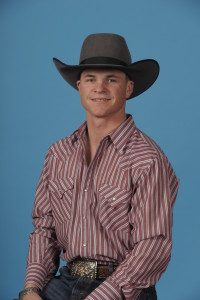 Ty Wallace grew up in the small town of Collbran, Colo., and graduated with 20 people in his class in 2012.
His dad is a farrier and cowboy life is common in this community, so Ty was perhaps destined to stick close to the Western lifestyle no matter what he did, but especially when he decided to ride bulls.
Ty won around $6,000 on his permit before he becoming a full-fledged PRCA cardholder in 2013. He also competed in college rodeo and qualified for the College National Finals Rodeo (CNFR) that year as a freshman at Odessa (Texas) College. There, Ty won the second round and finished fifth in the CNFR average.
It was also his rookie year in the PRCA. Things heated up in 2014 considerably when Ty qualified for his second CNFR. Then he made his very first Wrangler National Finals Rodeo appearance that December where he placed in two rounds. Ty finished 12th in the PRCA world standings for 2014 with over $93,000 won.
This year, Ty comes in ranked 13th and has ample opportunity to move up in the standings through the 10 nights of competition. What helped him make the top 15 was his win at the Justin Boots Playoffs in Puyallup, Wash., and co-championship wins at Plains, Mont., and the Elizabeth Stampede Xtreme Bulls event.
He is a cowboy through and through. He's known to wear pearl snap shirts and is more comfortable in a cowboy hat and boots than any other attire. And even though Collbran is located on the western slope of Colorado and near many great ski resorts, this cowboy is more likely to be feeding cows in the snow than finding his way to the slope.
If he wasn't rodeoing, he'd be ranching. And at just 21 years old, his ranching career will have to wait as he pursues those gold buckle dreams that all bull riders have.