Ty Breuer Wins Sheridan WYO Rodeo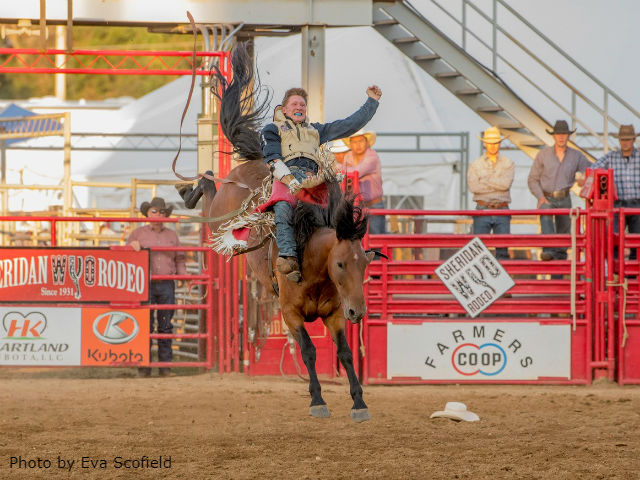 SHERIDAN, Wyo. – Sankey Pro Rodeo & Robinson Bulls' Black Tie was a bareback horse Ty Breuer wanted to ride.
When he was given the chance, Breuer didn't waste his opportunity.
The Mandan, N.D., cowboy had an 88-point trip on the horse to capture the victory at the Sheridan WYO Rodeo (July 12-15).
"I had seen that horse quite a bit and I always wanted to get on it because it was a real nice horse of Sankey's," Breuer said. "Every time I saw that horse, it was outstanding and I was tickled pink to have him and he had a good day and I had a good day."
This was the first time Breuer won at Sheridan, and he earned $5,273 for his performance at the Sheridan County Fairgrounds.
"I was trying to remember the last time I even did good there," said Breuer, 27. "It's a cool rodeo and winning that money is a good boost because I had a pretty dry Fourth of July run; so this will really help out."
Breuer, who was in 16th place in the July 11 WEATHER GUARD® PRCA World Standings with $45,734, is likely to bump up into the top 15 in the July 18 standings.
"I just need to take one horse at a time and keep riding as best as I can and see what happens," Breuer said.
Breuer has been to the Wrangler National Finals Rodeo presented by Polaris RANGER twice – 2013 and 2016. He finished 14th in the final world standings last year with a career-best $114,330 in earnings.
"Part of getting back to the NFR is being mentally strong," Breuer said. "There are so many good bareback riders wherever you go. I take things as every time you get on a horse it is another chance to help you get to the NFR, so you don't want to waste it. Vegas is why we rodeo all year long, to make it there. It's pretty cool to make it there and have an opportunity to win all that money."
Breuer, who travels with Tanner Aus and his brother Casey Breuer, 24, wouldn't change a thing about his career plight.
"This is cool and everything I ever wanted," Ty said. "When I was a little kid, I dreamed about rodeoing at this level. Being on the road all the time with my brother and Tanner also is a lot of fun."
Other winners at the $258,822 rodeo were all-around cowboy Jason Evans ($4,238 in team roping and steer roping), steer wrestler Blaine Jones (9.9 seconds on two head), team ropers Erich Rogers/Cory Petska (10.0 seconds on two head), saddle bronc rider Taos Muncy (85.5 points on Sankey Pro Rodeo & Robinson Bulls' Shining Mountain), tie-down roper Landyn Duncan (18.4 seconds on two head), barrel racer Ivy Hurst (17.16 seconds), steer roper Chet Herren (47.9 seconds on four head), and bull rider Guthrie Murray (87.5 points on Sankey Pro Rodeo & Robinson Bulls' Delco).
For more coverage of the Sheridan WYO Rodeo check out the Aug. 4 issue of the ProRodeo Sports News.
Courtesy of PRCA