Sterling Crawley – Stephenville, Texas
3-time WNFR qualifier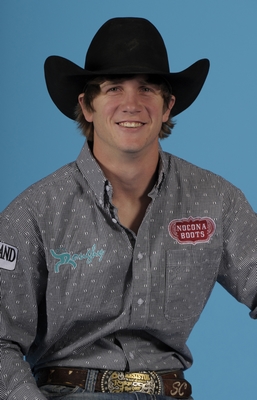 Last year was a year plagued with injuries for saddle bronc rider Sterling Crawley. It started in January when he broke his arm at the Texas Circuit Finals Rodeo in Waco. Then in July he tore his groin.
Playing with pain is not unusual for rodeo contestants, but it makes getting to the pay window more difficult. Sterling was among the top 15 and was close to a third Wrangler National Finals Rodeo (NFR) qualification, but no matter how hard he tried, riding with his injured groin just didn't work and he finished in 25th.
He still went to Las Vegas for the NFR but sat in the seats. He watched his older brother Jacobs win his first world championship. This year for the third time the duo will be competing alongside each other.
That's a good thing for the brothers that are best friends and traveling partners. They are competitive in everything they do, except riding bucking horses. When it comes to rodeo, they are each other's cheerleaders and leave it all in the arena.
Jacobs is married and has moved to Boerne with his wife. Sterling still lives in Stephenville, Texas, the "Cowboy Capital of the World." It's not unusual for a rodeo contestant to live in Erath County and call Stephenville home. It is unusual to have one that actually lived there as a youngster and graduated from High School in Stephenville. Sterling and tie-down roper Marty Yates are the only contestants at this year's NFR to have that distinction.
The Crawley brothers love what they do in and out of the arena. They travel as much as they can and go to as many rodeos as possible. And while and eight-second ride is the destination, the getting there is always an adventure. The next road leads to the NFR.