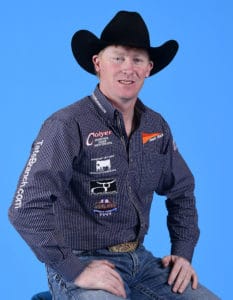 Name and Hometown: Taos Muncy – Corona, New Mexico
2- time World Champion
11-time Wrangler National Finals Rodeo Qualifier
Joined PRCA: 2005
Regular Season Earnings: $42,303
Starting 2020 NFR in 15th place
Major regular season wins:
• San Antonio Stock Show Rodeo (brackets and semifinals), 44,125
• Deadwood Days of '76 Rodeo, $4,684
• Home on the Range Champions Ride (Sentinel Butte, North Dakota, 2nd), $5,707
Fun Facts about Taos: Loving the life of a rodeo cowboy means more than just traveling highways and chasing dreams for Taos. It also means that when he is at home, he is home with his family 24-7. Taos and his wife, Marissa, have two children, daughter Marley and son Milo, aka Shooter. They are actively involved in the family's cattle ranch where days are spent horseback, fixing fence, and working cattle and evenings are spent in the arena. Taos and his sister Jordan both attended Oklahoma's Panhandle State University in Goodwell and were college champions. Taos finished $1,327 ahead of the man in 16th place this year, Cody DeMoss.