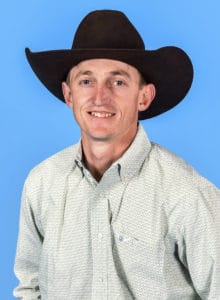 Name and Hometown: Allen Boore – Axtell, Utah
2-time Wrangler National Finals Rodeo Qualifier
Joined PRCA: 2012
Regular Season Earnings: $73,269
Starting 2020 NFR in 5th place
Major regular season wins:
• Fort Worth Stock Show & Rodeo (3rd), $12,640
• San Antonio Stock Show Rodeo (2nd), $21,000
• San Angelo (Texas) Rodeo (2nd), $4,795
• Rodeo Houston (Bracket 2), $4,583
Fun Facts about Allen: He and his wife, Katie, had a unique gender reveal for their third child at the Ute Stampede in Nephi, Utah in July with the help of Flying U Rodeo's Reno Rosser. As Allen's horse came out of the chutes, baby powder exploded with it and that baby powder was pink. With this addition, he will be the father of three girls. He qualified for his first WNFR in 2016 and won third in the average. The next two years he finished in 18th and last year was 22nd. He is not one to give up and thanks to a successful winter will nod his head in Globe Life Field this December.