Junior Nogueira – Burleson, Texas
3-time WNFR qualifier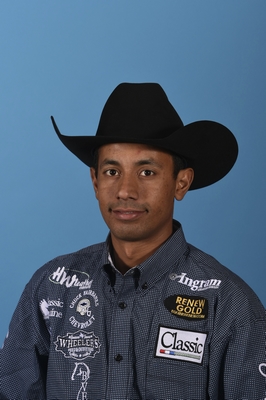 Three years ago, many rodeo fans had no idea who Junior Nogueira was, but when he showed up at the 2014 Wrangler National Finals Rodeo (NFR) roping with the legendary Jake Barnes, he got a lot of their attention.
That attention has been well founded. The native of Brazil and Jake roped together all of 2014 and 2015. Last year, they had qualified for the NFR for the second time when Jake was involved in a tragic accident in the practice pen. He sustained a broken ankle and had a severe brain injury that left him unable to compete at the NFR.
The number 16 header in the world standings was called just days before the NFR to come rope with Junior. That header was Texan JoJo Lemond and he and Junior set the Thomas and Mack on fire placing in 8 out of 10 rounds. Junior left Las Vegas with $117,404 in additional earnings and came close to earning his first gold buckle.
This year, the 26-year-old roper is in the lead in the team roping heeler standings with $122,342 in regular season earnings. He also leads the all-around standings with $123,786 — $6,382 of that earned in the tie-down roping.
It's no surprise that Junior can rope calves nearly as well as he heels. His father, the late Lucinei Nogueira was an accomplished tie-down roper in Brazil. His mother is a break-away roper and header and was the first woman to compete in their homeland.
Part of Junior's success in the tie-down roping this year has been due to fellow Brazilian Marcos Costa. Junior has the utmost respect for Marcos' horsemanship and when he bought a tie-down roping horse, Marcos helped him. Marcos told him the horse wasn't ready for the rodeos yet and let him ride the horse Marcos will ride at the NFR.
Thanks in part to that, Junior may be making history again. He was the first timed-event contestant from Brazil to qualify for the NFR. He may very well be the first one to win a gold buckle and has a good opportunity to earn two this year. He will be roping with Kaleb Driggers and no matter what happens, these two competitors will bring excitement to this year's competition, and Junior will be smiling.