Yates Goes Big Time at Dixie National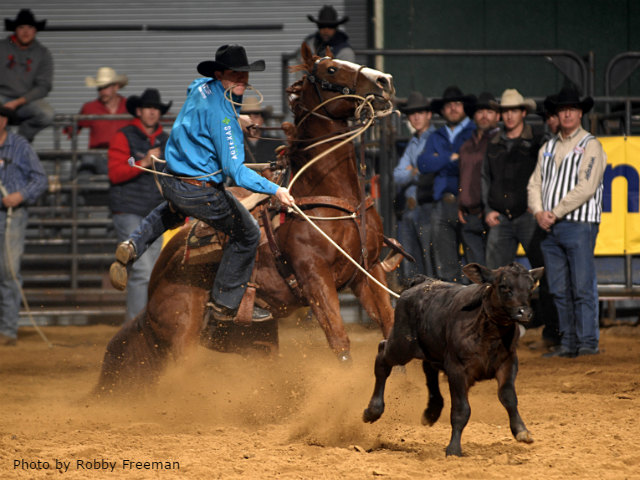 JACKSON, Miss. – Marty Yates and his new horse haven't been to many rodeos together, but are already collecting large checks and clicking like old friends.
The 22-year-old tie-down roper from Stephenville, Texas, combined with 9-year-old Big Time to win the Feb. 9-15 Dixie National Rodeo in Jackson, Miss., with a time of 15.5 seconds on two head.
The time was one-tenth of a second better than second-place Cody Quaney, and was one-tenth of a second off the two-head arena record, set by Jesse Childers in 2005.
"I had no idea I was that close to the arena record," Yates said. "Dang, I almost got there. I drew two really good calves, and I'm going to give Big Time the credit. He used to be a head horse, and I just bought him off Colby Lovell. NFR tie-down roper Mike Arnold trained the horse, and I've been doing really well on him so far."
Jackson was only the seventh rodeo Yates and Big Time have competed at together, but they performed like they've been doing it much longer.
Yates placed second in the first round with a time of 7.9 seconds, and split first in the second round with a 7.6. In total, he earned $9,153 in Jackson, which was nearly as much as he'd won previously all winter.
"Jackson is always a cool place to rope," Yates said. "They have stronger calves down there than usual, and I just happened to have two really good ones. This is one of the best starts to a season I've had in my career, and I want the winter to carry over to the summer so I don't go into the NFR as far down as I did last year."
Yates entered the 2016 Wrangler National Finals Rodeo presented by Polaris RANGER in the 15th and final spot, but rose to fourth in the world by the end of the 10 nights.
He was hit-or-miss in Las Vegas, finishing 15th in the average, but placing in six rounds, including winning two.
"I go all-or-nothing with every run," Yates said. "I used to think that maybe I needed to change my style, but now I live with the good and bad, and hope for the best. The older I get, the better I get at going fast."
Yates and Big Time have made the short round at the San Angelo (Texas) Rodeo, and through two rounds of his bracket at the San Antonio Stock Show & Rodeo, Yates has earned second- and third-place checks.
"I feel like this is going to be the best horse I've ever rode, I just have to keep him sound," Yates said.
Others winners at the $216,449 rodeo were all-around cowboy Clayton Hass ($5,276 in steer wrestling and team roping), bareback riders Jake Vold (86.5 points on Stace Smith Pro Rodeos' Cactus Black) and Bill Tutor (86.5 points on Korkow Rodeos' Onion Ring), steer wrestler Ty Erickson (6.9 seconds on two head), team ropers Hass and John Robertson (8.4 seconds on two head), saddle bronc rider Cody DeMoss (86.5 points on Smith, Harper & Morgan's Midnight Cowboy), barrel racer Amberleigh Moore (15.24 seconds) and bull rider Tim Bingham (89 points on Smith, Harper & Morgan's No. 30).
For more coverage of the Dixie National, check out the March 3 issue of the ProRodeo Sports News.
Courtesy of PRCA