Tie-Down Roper Marty Yates Snares Logandale Title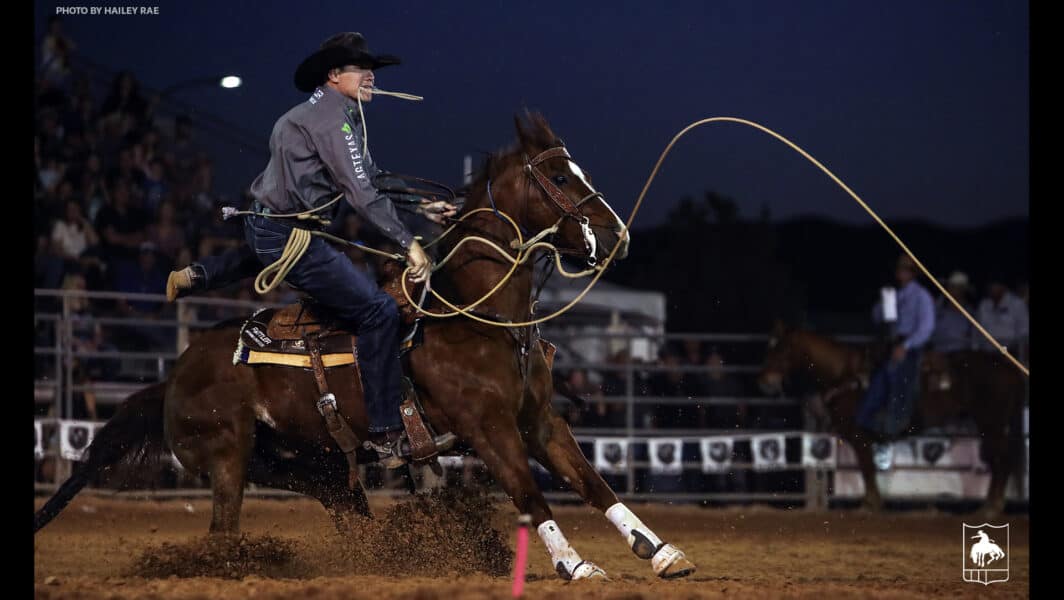 If the 2022 ProRodeo season had a theme for eight-time Wrangler National Finals Rodeo tie-down roper Marty Yates, it could be "less is more," at least through the first half of the season.
Yates has competed at just 11 rodeos since the new season kicked off Oct. 1, 2021, but already finds himself 14th in the PRCA | RAM World standings on the strength of wins like the one he collected on April 10 at the Clark County Fair & Rodeo in Logandale, Nev., a stop on the PRCA's NFR Playoff Series presented by Pendleton Whisky.
A winner of more than $1.5 million roping in his ProRodeo career, the Stephenville, Texas, cowboy was the picture of consistency with runs of 9.4 seconds and 9.2 seconds to win fifth in both rounds. His two-head average time of 18.6 seconds was more than a second better than his closest competitors and earned him a total of $6,564.
"They were a strong set of calves," said Yates, 27. "I had two that were both a little stronger in the run and I got two good starts to get it on them quicker. Then, they both took the tie good on the ground."
With a pared down winter schedule, Yates made sure to include the stop in Logandale, where he has won championships in the past, including a win at the rodeo in 2018 and at the Wrangler Champions Challenge event hosted there in 2015.
"I love Logandale, we drove out here just for it," Yates admitted from the road as he headed back to San Angelo (Texas). "I always seem to do good here."
For horsepower, Yates relied upon Jag, a horse he bought from 2020 PRCA World Champion Tie-Down Roper Shad Mayfield last summer.
"I rode him all fall and he's all I have ridden this year," Yates noted, adding that his faithful mount Buster, aboard whom he finished eighth in the world standings a year ago, suffered an injury right after the Wrangler NFR that will likely end his storied career. "I don't know if he'll come back, and he doesn't owe me anything."
Having just one good horse in his arsenal now, along with a new rodeo limit of 75 for tie-down ropers for 2022, has Yates monitoring his schedule closely.
"I like it," he said of the smaller required rodeo count. "I've just entered the really good ones this winter and once we get to Reno (Nev.) (June 16-25), we'll see where we are."
The NFR Playoff Series is part of the game plan, particularly with the inaugural NFR Playoff in Puyallup, Wash., Sept. 8-11 set to pay out $1 million.
"For sure, we'll go to those to try to get to the big deal at the end," Yates said of he and hauling partners Lane Livingston and Richard Newton. "Plus, with just one horse, I need to make sure I save him for the good ones."
Other winners at the $244,156 rodeo were all-around cowboy Tanner Green ($2,109, tie-down roping and team roping); bareback rider Seth Hardwick (86 points on Macza Pro Rodeo's OLS Tubs Stevie Knicks); steer wrestler Ringo Robinson (8.3 seconds on two head); team ropers Kaleb Driggers/Junior Nogueira (9.5 seconds on two head); saddle bronc rider Sage Newman (89.5 points on King Rodeo and Wentz Bucking Bulls' Popeye); barrel racer Megan McLeod Sprague (17.22 seconds); and bull rider Jeff Askey (88 points on Macza Pro Rodeo's OLS Tubs Sunny).
Courtesy of PRCA