Marty Yates Takes Tie-Down Roping Lead at ProRodeo Tour Finale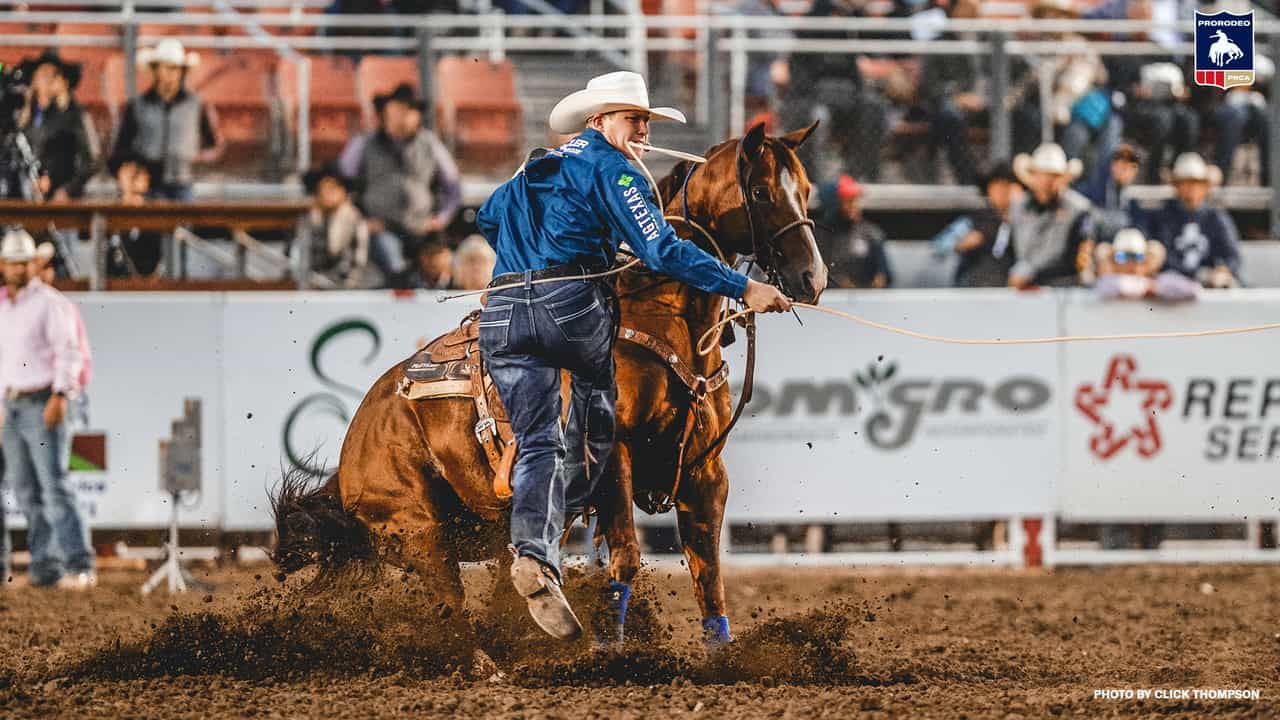 SALINAS, Calif. – Marty Yates has always been a fast tie-down roper – and he was once again Thursday night.
The Stephenville, Texas, cowboy clocked a 9.4-second time to take the first-round lead at the ProRodeo Tour Finale at California Rodeo Salinas.
"I have been here lots of times to Salinas, but I have never won," said Yates, 27. "It is definitely different roping here, horsepower definitely comes into play.
You have to have a fast horse and you also have to draw a calf that wants to wait around on you. I had both of those tonight, so it worked out really well."
The ProRodeo Tour Finale continues until Sept. 26 with a semifinal round and sudden-death finals. Cowboys in the top 24 of the ProRodeo Tour standings qualified for the ProRodeo Tour Finale. The ProRodeo Tour Finale will pay out $1 million to contestants and other PRCA members right before the PRCA regular season ends Sept. 30.
"I got to get back on my horse Jag tonight that I bought from Shad Mayfield earlier in the summer," Yates said. "He's been out with an injury, so it was nice to get back on him and finish on a good note in Salinas."
Before Salinas, Yates last rode Jag at the Farm-City Pro Rodeo in Hermiston, Ore., Aug. 11-14.
"He had an abscess in his front left hoof," Yates said. "He actually bust four abscesses out of his hoof. It was a pretty strange deal. I gave a lot of money for that horse, and it was sure hard to leave him on the sidelines when I needed to get the NFR made. He helped me get enough money and got me pushed up there in the standings. I was riding my girlfriend Loni Lester's horse, Boss when Jag was hurt, and he was great for me."
Yates entered the ProRodeo Tour Finale 11th in the PRCA | RAM World Standings with $95,269. Yates has qualified for the Wrangler National Finals Rodeo seven years in a row – 2014-2020 and wants to make it eight.
A year ago, Yates finished a career-best second in the world standings with $198,168, losing the gold buckle by a mere $231 to Mayfield.
"I wanted to get up as far as I could in the world standings, but horsepower changes and a lot of variables factor into it and I'm just fortunate to make it to the NFR another year," Yates said. "I would like to get a nice chunk of money here in Salinas. Everybody knows if you get your back number, you have a chance to win the world. You just need to show up and do your best when you get there.
"I'm sure excited to get back to Las Vegas and see how everything goes. That place is just electric."
Courtesy of PRCA