Chad Masters – Clarksville, Tenn.
10-Time WNFR Qualifier
2-Time World Champion
1-Time RNCFR Qualifier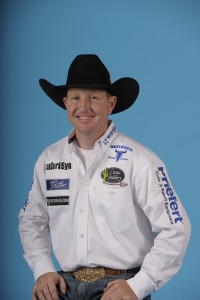 After a two-year absence, Chad Masters is coming back this year to the Wrangler National Finals Rodeo in Las Vegas to compete for his share of the lucrative pie — and he's coming in hot.
Chad has a place in Texas home, but for the Tennessee native, that will always be home. He is ranked third in the standings and has over $92,000 won thus far. This is the first year he's roped with Travis Graves, and the decision has paid off with big dividends. The pair won the Clovis Rodeo in California, the Caldwell Night Rodeo in Idaho and the Missoula Stampede in Montana.
Chad first picked up team roping at the ripe old age of 8 and followed in his horseman father, Bobby's, footsteps. Bobby and Chad's mother, Debbie, clearly instilled a work ethic in a young Chad. Bobby worked for 30 years at Pepsi and Debbie at the post office. Both parents have supported Chad's rodeo endeavors. His mother would open the roping chutes for him in practice growing up, and his dad still helps Chad ride and train horses.
Chad has put that foundation his parents instilled to work over the years, becoming a multiple-time Tennessee High School Rodeo team roping and tie-down roping champion. He then went on to qualify for nine trips to Vegas before this year with 2003 to 2004 and 2006 to 2012 seeing Chad at the Thomas & Mack.
In addition to his two world titles, Chad has taken home two separate WNFR Average titles, and that's not to mention the number of other rodeo wins that dot the map like pushpins over the years. So, the sky is the limit for what he may accomplish this year in Vegas.