Clayton Biglow – Clements, Calif.
1-time WNFR qualifier
2-time RNCFR qualifier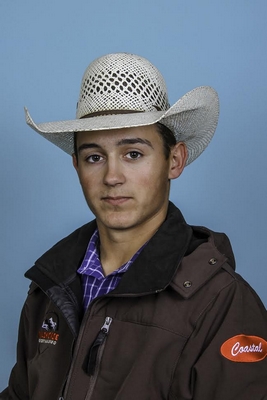 Clayton Biglow's rise to the top of the bareback riding world has been nearly meteoric.
A year ago, he was in Las Vegas competing at the Permit Holder Challenge of the Year, which he won.
That was just two years after he won the National High School Rodeo Association bareback riding title and finished as the reserve all-around. He continued his education at Feather River College in Quincy, Calif., where he has qualified for the College National Finals Rodeo twice. Last June he competed in bareback riding and team roping. He finished as reserve champion bareback rider behind his traveling partner Wyatt Denny and was also the reserve all-around.
Clayton's love of rodeo came from his father Russ Biglow who rode bareback horses and roped in the PRCA. Whenever they get the chance, Russ and Clayton enjoy roping together. His horsemanship skills, and athleticism have been enhanced from riding with his mother who trains jumping horses.
He enters his first Wrangler National Finals Rodeo (NFR) in eighth place with $81,762 in regular season earnings. A big chunk of that came when he won the coveted championship spurs at the Reno Rodeo, just days after the college finals. The Reno Rodeo win was important for him to accomplish his goal of getting to the NFR, but was special because a lot of family members and friends were on hand to witness his success.
Those friends and family have been watching Clayton ride horses and compete since he was six years old. He will turn 21 just eight days after the NFR is over and is hoping that they have more to celebrate than just his birthday.