J.D. Struxness – Appleton, Minn.
1-time WNFR qualifier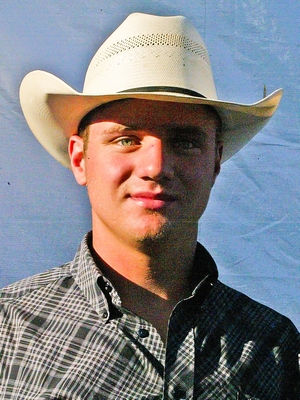 J.D. Struxness can credit a lot of his success this year to the Cowboy State of Wyoming.
Last year's rookie of the year in steer wrestling won the College National Finals Rodeo in Casper for Northwestern Oklahoma State University last June. Then, he came back and won Cheyenne Frontier Days the last week of July. Both wins added to his confidence, but the win from the "Daddy of 'em All" put $15,583 in his checking account.
That money couldn't have come at a better time. Prior to Cheyenne, J.D. wasn't in the top 20 of the PRCA world standings. After Cheyenne he jumped up to 13th and has made a steady climb to his first NFR qualification. He enters in fourth place with $84,435 in regular season earnings.
J.D. now has an opportunity to add his name to the select few contestants who have won National Intercollegiate Rodeo Association titles as well as world titles in the same year. The last contestant to do that was Taos Muncy in 2007. He also collected a buckle from Cheyenne the same year.
His August and September found him burning up the highway with Jacob Edler, who finished as the reserve champion at the college finals and did most of J.D.'s hazing. He also went back to Alva, Okla., to start his senior year at Northwestern.
A lot of J.D.'s success the past two years has been credited to his college rodeo coach, Stockton Graves, a seven-time NFR qualifier in the steer wrestling. As he prepares for his first NFR, he will be depending on his coach for continued advice and support.
Calling Minnesota home is a source of pride for J.D., and he will gladly carry the state flag in the grand entry. J.D. has two sisters who also competed in college rodeo at Missouri Valley College where J.D. started before transferring. As he takes on rodeo's biggest challenge, they will all be hoping for Minnesota to get their first steer wrestling gold buckle in the history of the PRCA.