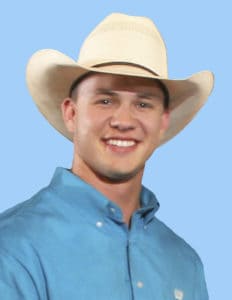 Name and Hometown: Bridger Anderson – Carrington, North Dakota
1-time Wrangler National Finals Rodeo Qualifier
Joined PRCA: 2017
Regular Season Earnings: $43,877
Starting 2020 NFR in 10th place
Major regular season wins:
• San Antonio Stock Show Rodeo (5th), $10,375
Fun Facts about Bridger: As a three-year-old watching WNFR, Bridger told his family he wanted to be a professional steer wrestler. He missed the junior high finals by a few points, then drew a map from his house to Gallup, New Mexico, home of the next year's National High School Finals Rodeo. He qualified for that in five events. He won the steer wrestling championship at the 2019 College National Finals Rodeo for Northwestern Oklahoma State University. Bridger has looked up to Luke Branquinho who was at his first WNFR when Bridger was three. Now Bridger is helping Luke at a steer wrestling school as a WNFR qualifier. His parents both roped and even though he played football and wrestled in high school, he always put that rodeo dream ahead of the rest.