Where Are They Now? DeAnne Fontenot Royer Miss Louisiana 1991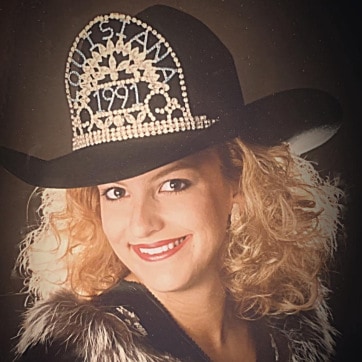 DeAnne Fontenot Royer – could not be mistaken for anything other than a true Louisiana gal with a name like Fontenot, a French surname very common in the Pelican state alternately spelled Fonteneault or Fonteneau, closer to the French word Fontane or Fontaine, meaning "spring" or "fountain."
This fountain of youth and beauty hailed from Lake Charles, LA, when she served as Miss Rodeo Louisiana 1991. Today, she is a resident of DeRidder, LA.
DeAnne is a cowgirl in more ways than one. She attended McNeese State University in Lake Charles, ironically and appropriately known by two mascot names as the "Cowboys and Cowgirls."
She and PRCA Gold Card Saddle Bronc rider Bryan Wright have three children together – Emily, Jack and Will, who all burn up the rodeo circuit just like their parents did back in the day.
They also became grandparents two years ago with the birth of Payson.
Today, DeAnne works as a medical coding specialist, and she is celebrating 14 years of marriage to Joe Royer.
All of her kids are involved in the sport of rodeo from professional level down to youth level. The Royers spend a lot of time on the rodeo trail supporting the children and running the family ranch back home.
"Right now, my goal is to get my younger two through college," says Royer.
"Other than following them to rodeos, we run the family ranch with about 200 head of momma cows, so we spend a great amount of time making sure that runs smoothly.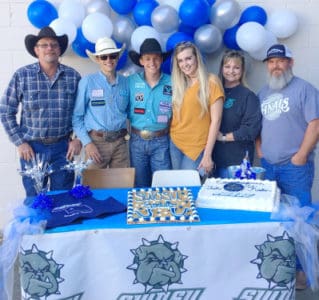 "We want to be able to leave it to our children and their children."
Reflecting back on her time at the Miss Rodeo America Pageant, DeAnne recalls some of the memories of her preparation and specific moments of that week.
"The speech writing, the mock interviews, the horsemanship lessons, and representing my state at different rodeos," says Royer.
"I remember us all being very bad dancers while practicing the opening number at MRA in Vegas, but we laughed and made the best of it.
"So many of those experiences are with me every day."
Like many former state titleholders, DeAnne is still involved in rodeo queening as a judge and coach.
When she crosses paths with young cowgirls who aspire to serve as a rodeo queen, she takes every opportunity to explain the benefits of serving as a state titleholder and being a participant in the Miss Rodeo America Pageant.
"The things you gain are life altering — the experience, the confidence, the poise, the interaction, the education, and most importantly, life-long relationships and friendships that are priceless," says Royer.
"Some 30 years later those relationships still mean so much to me."
See more at Missrodeoamerica.com