Wrangler National Finals Breakaway Roping
Shelby Boisjoli-Meged Captures Her Inaugural National Finals Breakaway World Championship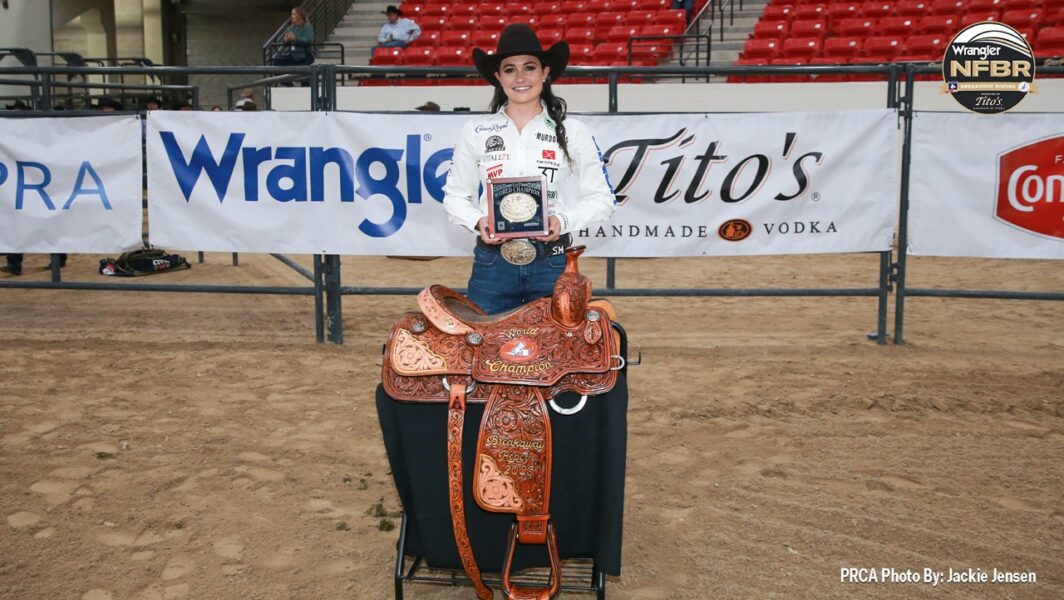 LAS VEGAS – Just before the 2023 Wrangler National Finals Breakaway Roping presented by Tito's Vodka began, Shelby Boisjoli added her husband's name.
Now, Shelby Boisjoli-Meged will have that stamped on her new Montana Silversmiths gold buckle, a prize most honored in rodeo for a world-championship season. After arriving at the South Point Equestrian Center in dominating fashion with a regular-season earnings record in her pocket, the Alberta-born cowgirl now living in Stephenville, Texas, continued to roll through the 10-round championship.
In all, she placed in six rounds, including at least a share of two wins, and earned a NFBR-record of $33,157 over two days, which included a third-place check in the average. She finished the 2023 campaign with $197,706, another earnings mark.
"This is the first year that I've dedicated my whole season to just trusting God's plan, and I feel like that's all I did all season," she said. "I think that's the reason why I'm standing right here."
Boisjoli-Meged was one of just a handful of competitors who have qualified for all four breakaway finals. She has been on the front line of the growing interest in the sport, which saw its largest crowd in the history of the NFBR during Wednesday's second performance. That crowd saw Navajo cowgirl Danielle
Lowman of Gilbert, Ariz., win three straight with a 1.9-second run to claim the top spot in the seventh round and two 1.7-second runs to win the eighth and ninth rounds.
Sarah Angelone of Lipan, Texas, then matched that 1.7 in Round 10 close out the season. Cheyanne McCartney of Kingston, Okla., won the average championship, roping nine calves in a cumulative time of 32.2 seconds. That was worth $13,866 and pushed her NFBR earnings to $26,081.
"It's definitely a tough feat to accomplish," McCartney said. "I was looking a little dim for a moment after I missed my seventh calf, but it just goes to show that if you never give up and just keep focusing on your job, you'll come out on top sometimes."
For Boisjoli-Meged, her gold buckle represents the teamwork she has with her horse, No Wimpy Turns, an 8-year-old sorrel mare she calls Onna, which was named 2023 Nutrena Horse of the Year presented by AQHA.
"She is really special, and I owe all this to her," she said. "I rode her at every single rodeo, so this is hers as much as it is mine."
Courtesy of PRCA
__________
Live video coverage from the South Point Arena & Equestrian Center in Las Vegas, Nevada; Tuesday, December 5th through Wednesday, December 6th, 2023.
The Top 15 breakaway ropers will compete for prize money of $250,000 during the two-day, 10-round performance.
This is the second year the Wrangler National Finals Breakaway Roping will take place at the South Point.
The 2020 National Finals Breakaway Roping took place at Globe Life Field in Arlington, Texas, in conjunction with the NFR and Jackie Crawford captured the world championship. In 2021, Sawyer Gilbert won the NFBR at the Orleans Hotel and Casino in Las Vegas and last year Martha Angelone won the world title at the South Point.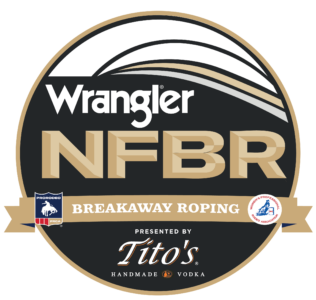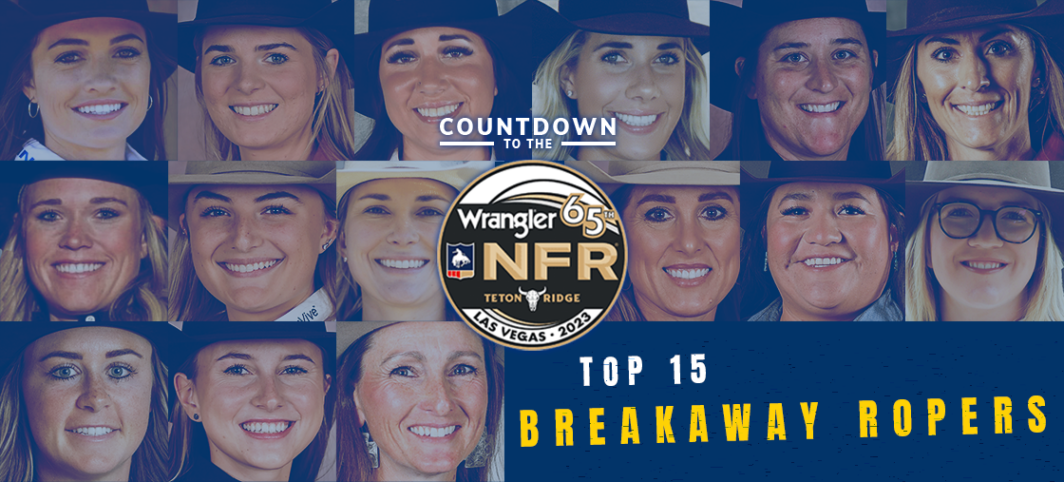 Presented by:


NFBR Video
LOADING
Latest NFBR News
LOADING