RFD TV's The American
Video highlight and interview coverage from Arlington, Texas; Saturday, March 6th thru Sunday, March 7th, 2021.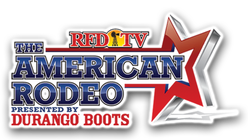 "The American Rodeo has always been about the cowboys and cowgirls and last year's rodeo had a lot to do with determining who not only qualified for the 2020 WNFR, but who was eventually crowned the World Champion in each event," stated Patrick Gottsch, Founder and President of Rural Media Group, Inc., parent company of RFD-TV, Rural Radio on SiriusXM and The Cowboy Channel. "With COVID understandably still challenging many rodeos around the country, we feel it is even more important to hold The American Rodeo as scheduled in March, in order to give cowboys a chance to win big money that counts towards PRCA's standings, and also give rodeo fans some sense of normalcy."
Tickets for The American Rodeo at AT&T Stadium March 6-7, 2021 can be purchased at SeatGeek.com. Standard ticket prices range from $20-$150, encompassing four pricing tiers for every level of rodeo fan. Due to current COVID-19 restrictions, only a limited number of tickets will be sold on a first-come, first-serve basis.
The American Video
LOADING
Latest The American News
LOADING