Where Are They Now: Lisa Lucia (Lageschaar) Miss Rodeo Texas 2016, Miss Rodeo America 2017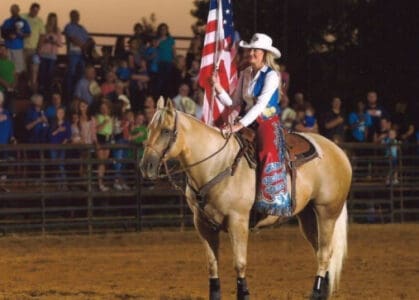 Perseverance is a primary characteristic of the American cowgirl. If you need a model in perseverance, look no further than Lisa Lageschaar Lucia, Miss Rodeo Texas 2016 and Miss Rodeo America 2017.
This tall, beautiful American goddess from Pickton, TX, competed for the title of Miss Rodeo Texas twice before winning the title. It was a dream she wanted with all of her heart, and she was willing to turn an initial shortfall into a glorious comeback and then parlayed that effort into a national title.
"I believe that if God puts something on your heart, it's there for a reason," said Lucia.
"We must pursue it relentlessly using our God-given talents and abilities."
Being a first-generation equestrian with a slight Dutch accent did not slow her down on the trail to achieve two titles that often have been held by multi-generational cowgirls from strong ranching and rodeo backgrounds.
Her parents, Erwin and Theresia Lageschaar, are first-generation Americans, having immigrated to Texas from the Netherlands in 1990 to purchase and operate a 600-acre dairy farm. Lisa was born just a year following their big move, and she attended daycare in Texas specifically to learn English.
While we have seen multiple Miss Rodeo America's speak more than one language, she is the only Miss Rodeo America known to speak fluent Dutch in addition to English.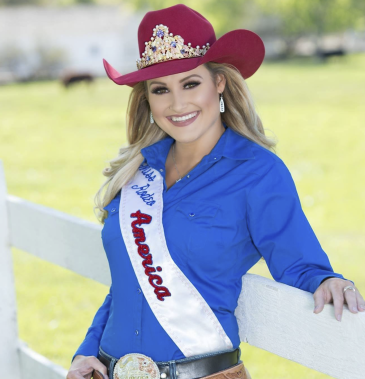 Being raised on a dairy farm provided the foundational characteristics needed to become successful, including hard work and perseverance.
She got her first pony at age 5 and her first horse at age 7. Her parents weren't big fans of Lisa's love for riding at first, but thankfully, they softened on the subject when it became apparent, she was comfortable and naturally skilled.
"My passions are horses, rodeo, agriculture and the western way of life," said Lucia.
"I love the Lord, my family and helping other become the best version of themselves."
Although serving as Miss Rodeo America 2017 certainly was a highlight of her life, she is using that experience as a launch pad to achieve more pinnacle accomplishments in her life.
After crowning her successor, right out of the box she married PRCA announcer, trick roper and team roper Anthony Lucia, son of longtime rodeo entertainer Tommy Lucia.
Together, Lisa and Anthony have been named "a power couple in rodeo." They now reside in Brock, TX.
Holding an undergraduate degree in Agricultural Education from Tarleton State University and a Master's of Education in Secondary Education from Stephen F. Austin University, Lisa is now using her Miss Rodeo America Scholarship Foundation earnings to pursue a PhD. In Agricultural Education from Texas Tech University.
She was teaching agriculture at the high school level when she competed for the title of Miss Rodeo Texas. But since holding the highest title in the land, she has developed a program called A.R.I.S.E, which specializes in coaching young people to become excellent rodeo queens and leaders in the rodeo and agriculture industries.
With her educational accomplishments, she hopes to return to teaching in the classroom at the college level this time.
Looking back on the experience of the Miss Rodeo America Pageant, Lisa summed up the highlights.
"The people I met have impacted me beyond measure," said Lucia.
"The skills gained are priceless and apply to all aspects of life.
"Finally, the financial freedom the scholarship has given me is one of my biggest blessings."
When she is not hitting the books, writing papers or coaching, she enjoys training barrel horses and keeps her team roping skills finely tuned.
Lisa credits her dad for a special characteristic that has helped her achieve so much in her young life.
"From my first rodeo queen pageant to my last, my dad instilled a humble confidence in me that keeps me grounded, motivated and determined," said Lucia.
"I strive to be the best I can be in everything I do and that stems from the humility my parents instilled in me."
See more at Missrodeoamerica.com