Bob Feist Invitational
Live video coverage from Guthrie, Oklahoma; Wednesday, March 29th thru Tuesday, April 4th, 2023.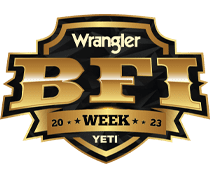 The BFI brings together all walks of life, from amateur to pro, to enjoy and celebrate the sport of team roping. The only thing better than watching the greatest in the world for a day, is to spend a whole week worrying about nothing but team roping! The new owners of the BFI, Daren and Kami Peterson along with Corky Ullman, have also purchased the Reno Rodeo Invitational Team Roping and the All-Girl and are taking these great ropings, making them even better!
Presented by:


BFI Video
LOADING
Latest BFI News
LOADING