Behind the Chaps: Miss Rodeo Louisiana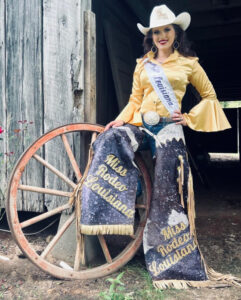 If you ever get a chance to visit the Bayou State, you're more than likely to hear the phrase "Geaux Tigers!" This well-known motto originates from Louisiana State University. They are famous for using purple and gold as the colors to represent the school – which was no coincidence! These colors were inspired by the traditional Mardi Gras colors of purple, gold, and green. Gold also is associated with excellence and achievement, whereas purple additionally represents royalty and the passion, spirit, and culture of the Louisiana community.
This perpetual pair of chaps was donated to the Miss Rodeo Louisiana organization by Miss Rodeo Louisiana 2017, McKenna Greene. They embody the spirit of the state with perfection and will continue to represent Louisiana for years to come.
See more at Missrodeoamerica.com