Aussie Callum Miller's St. Tite Trip Proves Fruitful with Runner-Up Finish
By: Covy Moore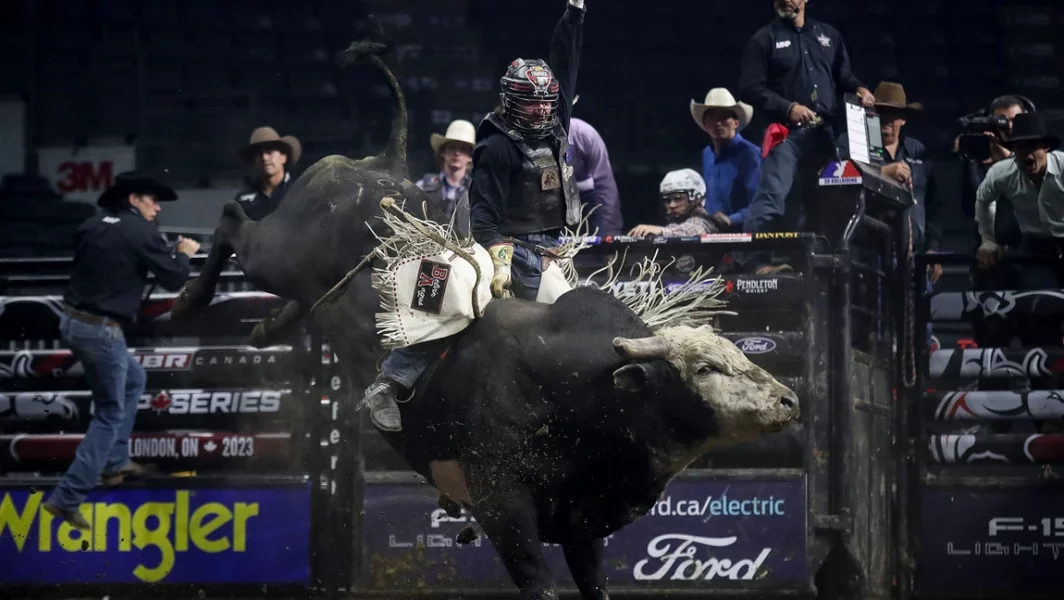 AIRDRIE, Alta. – Sitting on the bubble in the PBR Canada national standings, Australia's Callum Miller brought home much-needed points courtesy of a runner-up finish at the Touring Pro Division event in St. Tite, Quebec, this past weekend.
PBR Canada returned to the historic Western Festival du St. Tite in Quebec for a midnight bull riding that featured 12 of PBR Canada's best bull riders competing in front of 7,200 people.
The electric atmosphere for St. Tite rookie Miller was the biggest eye-opener to the famous Quebec event.
"It was the first time I had ever been out there," Miller said. "It was pretty awesome. The amount of people walking all through the town is unreal, and seeing that grandstand packed out at midnight is pretty sweet."
"The energy and all of that behind the chutes, getting on, it just pumps you up like nothing else. It was the start of the show, the light show they had at the start, the music, the hype, the energy that was out there was my favorite."
And as pumped up as Miller was before the bull riding began, making the buzzer on the back of Black Creek Rodeo Company's Great White for 88 points and the second-place finish, was just as sensational.
Entering the event, Miller said his mindset was the same as it has been all year — show up and get his bulls ridden.
"The mindset was the same as every event; this one just worked out in my favor," Miller laughed.
"Go out there, ride my bulls correctly, and get off good. I did 50%. I got off good on one. I got off terribly on the other one."
Having a slower-than-usual season for what PBR Canada has become accustomed to from Miller, he says it has been a bit of a path back to being perfectly healthy after undergoing wrist surgery at the start of the season.
Aside from some little injuries at this point in the campaign, Miller says he feels like the wrist is back to being strong and bull-riding ready.
"It's not too bad," Miller said. "There have been some nagging injuries lately, but nothing really serious," Miller said. "I feel like the body is pretty good, just a couple little nagging things."
With the season shifting into the return of the PBR Canada Cup Series, presented by Wrangler, for the majority of the schedule, Miller said he isn't really looking at the standings too much or getting too worked up about his position ahead of the 2023 PBR Canada National Finals.
And while Miller may not be looking too closely at the standings, his latest silver showing earned him considerable ground, propelling him from No. 25 to No. 19.
Instead, Miller is keeping things simple and fun, and there is one spot on the schedule he is looking forward to most.
"The plan at the moment is to focus on the Cup events coming up and be consistent at them, not worry about points or things like that. Just go in and worry about riding my bulls and having fun."
"Grande Prairie is a great one," Miller added of the upcoming slate of events. "It always seems to work out in my favor there. I am excited to make a rip up there in just a couple weeks and go again."
As for bull power, with the 'pick-your-poison' style championship rounds at PBR Canada Cup Series events back in play, Miller said two from the Two Bit Bucking Bulls are always atop his list.
"Lil Hooch is right at the top for me. He is one of my favorites. He is just a fun bull to get on. He is always making it look good, flashy," Miller said.
"Then there is another bull of Josh (Berezay's) called Crazy Little Thing. He has gotten me down twice, so I am looking forward to changing that third-time luck and having it go my way the next time I get to get on him."
Photo courtesy of Covy Moore
© 2023 PBR Inc. All rights reserved.