By the Numbers: Pacheco Doubling Down, Set to Make Run For Second World Title
By: James Youness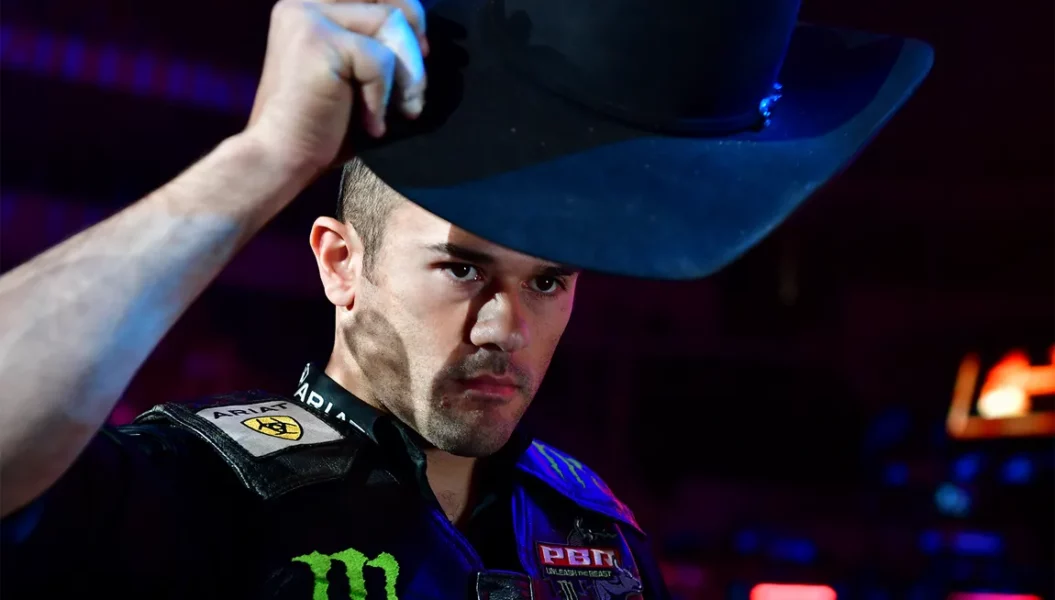 PUEBLO, Colo. – As the only rider to go a perfect 3-for-3 in Milwaukee, Wisconsin, 2018 World Champion Kaique Pacheco captured his second event title of the 2023 season, courtesy of his Round 1 and championship round victories.
Just like his bull rides, humble and to the point, Pacheco thanked the fans, his sponsors and relayed his appreciation to be in the position to ride bulls for a living after his win Sunday afternoon.
"I'm just happy to do my job, ride my bulls and win the event," a smiley Pacheco said.
"That's the (objective) of my job, (to win event titles), and I'm really happy. I want to say thank you to all of the fans for coming to see us and want to thank my sponsors for supporting me all the time."
Just like that, it's business as usual for the experienced veteran, now sitting No. 2 in the 2023 Unleash The Beast standings heading into this weekend's action in New Orleans, Louisiana.
Earning a welcomed 135 UTB points for the first-place honors, his 23rd event victory on his resume, he was able to jump now No. 3 Dalton Kasel and No. 4 Andrew Alvidrez in the standings, while reducing No. 1 Jose Vitor Leme's lead atop the race to a mere 71.5 points.
"He's (Leme) a really great bull rider and does an awesome job," Pacheco shared with Kate Harrison following the win on CBS Sports Network.
"He's broken a lot of records and I'm really happy to ride with him. I hope all the best for him and hope we keep doing our job."
On a weekend which saw a combined 26 qualified rides, tying the previous weekend's total logged in Little Rock, Arkansas, Pacheco accounted for 11.5% of them. Now 22-for-40 (55%) overall in 2023, Pacheco has logged the most rides (22) among all premier series competitors and will look to stay hot this weekend in New Orleans as Smoothie King Center prepares to host the PBR Union Mortgage Invitational March 17-18.
As the 2023 Unleash The Beast World Finals, set to take place May 12-21 in Fort Worth, Texas, quickly approach, we're taking a look at some of the numerical outliers from last weekend's action up north in this week's By the Numbers:
89 Times 2: Cementing his fourth and fifth round wins of the season, respectively winning Saturday's opening round and parlaying it a day later with a short go win, it was a pair of 89-point efforts that fueled Kaique Pacheco to his second event title of the season. The first came atop Alter Ego, while the second, with all eyes on him, was earned aboard bovine standout Moonlight Party, which the World Champion selected second overall in the championship round bull draft Sunday. Earning 135 UTB points and an accompanying payday of $45,312, Pacheco joins Dalton Kasel, Andrew Alvidrez and rookie Daniel Keeping with two event titles in 2023 en route to establishing himself as the No. 2-ranked rider on tour. Current No. 1 Jose Vitor Leme, who rebounded this past weekend with a quality 2-for-3 performance, has racked up three wins (New York City, Chicago, Sacramento) so far, the most among UTB contenders.
From 3-2-5: Exiting the weekend, "The Ice Man" would've tied Kasel with a tour-best five round wins, but Kasel managed to capture the Round 2 victory in Milwaukee, courtesy of an electric 88.25-point ride atop Savage, successfully defending his lead and extending his total to six round wins. While two-time World Champion Leme twice came close to winning a round last weekend, with 87.5 and 87-point scores paired against Spirit World and Air Shift through his first two outs, respectively, he's recorded four round wins so far, the third-most among premier series' participants this year. If it wasn't for an elite effort produced by his short round opponent Woopaa, which he bucked off in a close 6.39 seconds, it may have been a different Monster Energy rider taking home the top prize.
45.5: After beginning the 2023 UTB campaign by surrendering three consecutive rides, albeit elite scores, including 91.75 points (Cooper Davis in St. Louis), 91.25 points (Sandro Batista in Minneapolis) and most recently, 88.25 points (Thiago Salgado in Indianapolis), the World Champion bovine managed to buck off Leme in heartbreaking fashion en route to earning his first buckoff of the year. With rumors swirling as to how much longer the talented athlete may compete, he came out strong Sunday afternoon, proving he's still got what it takes while dispatching the No. 1-ranked rider on tour. The pair continues to hold the top-two scored rides in PBR history (98.75, 97.75), and when Leme selected him first overall during the short round draft, fans knew they were in store for a good showing. Eventually resulting in a 45.5-point bull score, Woopaa earned the second-best score of the weekend, falling just .25 points short of UTZ BesTex Smokestack's 45.75-point effort gained from forcing Kyler Oliver to exit in 6.99 seconds Sunday afternoon.
Deuces Wild: Attempting to put together his first flawless weekend of the 2023 season, Oliver's close call on Sunday afternoon nearly resulted in his first Top 3 finish of the season. Eventually finishing the event in fifth place, he's managed to find the Top 5 in three of his last six premier series appearances, but continues to turn in 2-for-3 efforts. In fact, at 7-for-20 overall on the season, six of his seven qualified rides have been earned in consecutive fashion, with a pair coming in Indianapolis, Indiana (Round 1: 77.5, Round 2: 87.5), Tulsa, Oklahoma (Round 2: 89.25, Championship: 92) and last weekend in Milwaukee (Round 1: 86.5, Round 2: 87.25). Sunday's short round outing against UTZ BesTex Smokestack was a rematch, as the No. 26-ranked rider last handled him for an impressive 92-point ride just a month prior in Tulsa.
Second-best: As the race to be crowned the 2023 World Champion continues to heat up, rookie standout Wingson Henrique da Silva has continued to turn in solid performances during his first year as a regular on the premier series tour. After logging an 86.5-point conversion atop Taking Chances in the PBR Brew City Classic's opening round of action, he was bucked off his Round 2 matchup, Pearl Snap, in 3.16 seconds. Refusing to let that affect his overall outcome, he returned to work in his fourth championship round of the year aboard Ivy League. Finding success against the bovine, the now No. 11-ranked Brazilian was scored 89.5 points for his ride, vaulting the 23-year-old into a runner-up finish en route to logging the second-best score of his young career. Part of arguably one of the most talented rookie classes in recent memory, he sits No. 3 among first-year competitors, now just 108 points behind current rookie race leader Rafael Jose de Brito after earning 92 UTB points in Milwaukee for the second-place result.
1-2 Punch: While the Unleash The Beast tour regularly features a mix of standout American and Brazilian-based talent, the premier series saw 2022 PBR Canada Champion Nick Tetz make some noise stateside this past weekend, courtesy of his sixth-place effort. In just his second-ever UTB appearance, Tetz started the weekend in the ride column by pairing up with Death Warrant for an 87-point score. Marking the 23-year-old's first official quailed ride on the world's best bull riding circuit, he entered Sunday with a shot at making his first short round attempt. Besting Mike's Effect in Round 2 for 82 points, he recorded consecutive rides for the first time en route to punching a ticket to his first-ever championship round appearance. While things didn't end the way he may have wanted, eventually bucked off by Mike's Motive in a quick 2.16 seconds, Tetz is set to compete in New Orleans, where he will look to build on a successful weekend.
This weekend's PBR Union Mortgage Invitational, set to take place inside Smoothie King Center March 17-18, will kick off the bull riding on Friday, March 17 at 7:45 p.m. CST and can be viewed on RidePass on Pluto TV. Round 2 action, followed by the championship short go, are set to begin on Saturday, March 18 at 6:45 p.m. CST and will be aired on CBS Sports Network on Sunday, March 18 at 7 p.m. CST. Be sure to stay tuned to PBR.com and PBR social media channels throughout the week as the premier series tour gets ready to invade New Orleans!
Photo courtesy of Josh Homer/Bull Stock Media
© 2023 PBR Inc. All rights reserved.