From the Vault: Kaique Pacheco Overcomes it All to Win 2018 World Title
By: Darci Miller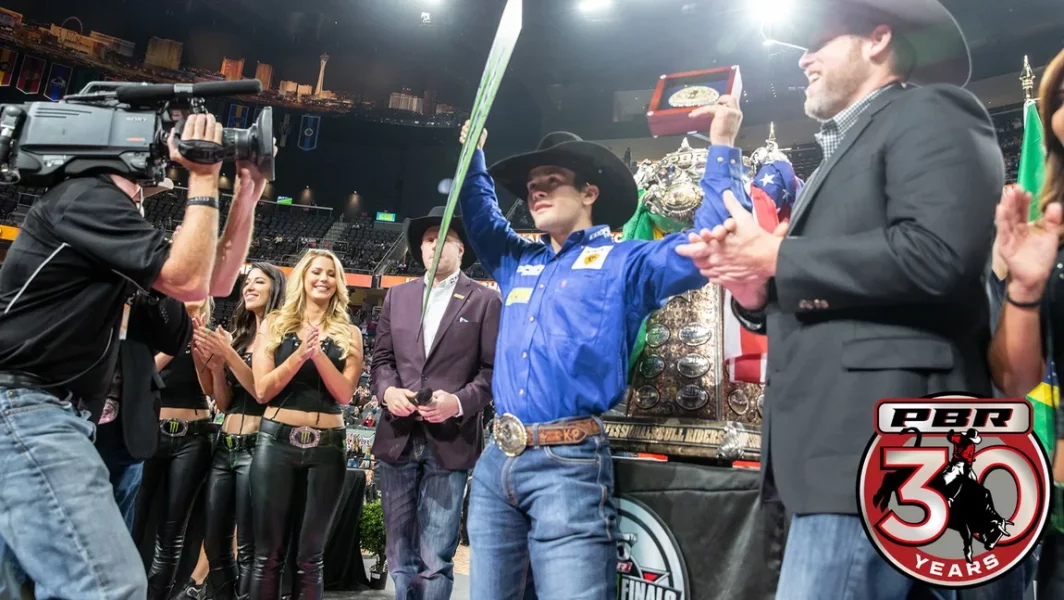 PUEBLO, Colo. – This past weekend in Milwaukee, Wisconsin, Kaique Pacheco won his second event of the season to vault to No. 2 in the World Championship race.
The top of the standings is a familiar place for the 28-year-old. Since making his premier series debut in 2015, he's finished in the Top 5 seven times.
Pacheco climbed the mountain in 2018, winning the world title despite the odds stacked against him. Not only did he injure his knee the week before at the Velocity Tour Finals, but he also had to fend off future two-time World Champion Jose Vitor Leme's push in Las Vegas. It was truly a world title race full of drama, but Pacheco did what he's known for – remained cold as ice.
Notably, Pacheco has also finished No. 2 in the standings three times, including in 2021 and 2022. Can he avoid the three-peat and win a second world title at the 2023 PBR World Finals on May 12-21 in Fort Worth, Texas?
While we wait for the answer to that question, PBR.com's From the Vault series looks back on the last two weeks of Pacheco's first World Championship run.
World leader Pacheco injures knee at Velocity Finals (Nov. 4, 2018)
LAS VEGAS – World leader Kaique Pacheco was by himself in the locker room on Saturday night when he winced in pain.
Pacheco had tried to keep a smile on his face earlier in the evening as he sat in his chair with a big bag of ice on his left knee.
The pain, though, was beginning to set in.
The No. 1 bull rider in the world had just gotten done being evaluated by Doug Olle of the PBR Sports Medicine team after he injured his knee during his 7.9-second buckoff against Fly Over in Round 2 of the 2018 Real Time Pain Relief Velocity Tour Finals.
A few riders, including three-time World Champion Silvano Alves and 2018 Real Time Pain Relief Velocity Tour champion Alisson de Souza had come to check on Pacheco a few minutes earlier.
Everyone inside the South Point Hotel Casino & Spa went silent when Pacheco got tangled up with Fly Over.
Pacheco struggled to put any weight on his left leg while hobbling to safety.
Pacheco has torn knee ligaments (Nov. 6, 2018)
LAS VEGAS – The No. 1 bull rider in the world is severely injured, but Kaique Pacheco is committed to doing all he can to not let torn ligaments in his left knee prevent him from winning the 2018 World Championship.
Dr. Tandy Freeman confirmed Tuesday that an MRI on Monday afternoon revealed Pacheco tore his left MCL and PCL during his 7.9-second buckoff against Fly Over in Round 2 of the 2018 Real Time Pain Relief Velocity Tour Finals on Saturday night.
According to Freeman, Pacheco has "high-grade partial tears of the PCL and MCL," as well as lesser groin injuries.
"Kaique has high grade partial tears of the posterior cruciate ligament and medial collateral ligament of his left knee along with lesser injuries to his adductor magnus, medial retinaculum, and medial patellofemoral ligament," Freeman said via email.
Freeman added that the recommended treatment for these kind of injuries would be bracing and physical therapy for 12 weeks before returning to competition.
Regardless of how much pain he may be in, Pacheco has confirmed he will be riding at the PBR World Finals this week.
Pacheco earns qualified ride despite torn ligaments; Leme answers the bell (Nov. 8, 2018)
LAS VEGAS – World leader Kaique Pacheco was on the treatment table inside the PBR Sports Medicine room at T-Mobile Arena as Director of Sports Medicine Rich Blyn began to go through the process of fitting and adjusting Pacheco's knee brace.
The brace was going to play an important role as the 24-year-old prepared to ride through a torn PCL and MCL in his left knee on Wednesday night.
Pain tolerance – and how much strength he would still have – was going to be another question mark for Pacheco heading into Round 1 of the 2018 PBR World Finals.
Pacheco, though, was as calm as ever on the table two hours before the start of the World Finals.
"I have done a lot of ice and treatment on my knee," Pacheco said with the help of Guilherme Marchi translating before heading into the sports medicine room. "I am feeling better. Lots of compression. They are trying to make me better. I am very thankful for those guys. They spend a lot of time with me. I am very grateful for Richard, PBR Sports Medicine and Fit-N-Wise."
Pacheco erasing the past from his memory (Nov. 10, 2018)
LAS VEGAS – Kaique Pacheco lost his first battle of the 2018 PBR World Finals on Friday night, but the world No. 1 bull rider remains collected as he sits less than 36 hours away from potentially being crowned the 2018 World Champion.
Pacheco was downed by Cut The Cord in Round 3 at T-Mobile Arena when the bovine athlete ripped Pacheco to the left in 5.6 seconds away from his hand.
"It happens," Pacheco said from the PBR Sports Medicine room.
Pacheco was icing his left knee (torn PCL/MCL) to try and reduce the swelling.
The 24-year-old then threw his hands up in the air.
The buckoff was old news to him.
It had only been 15 minutes, but Pacheco was already moving on to Round 4.
"Just focus on tomorrow," Pacheco said. "Forget today, forget the pain, everything."
World Championship to come down to final day (Nov. 11, 2018)
LAS VEGAS – World leader Kaique Pacheco lay flat on a bench inside the locker room and covered his eyes with his left hand.
The rest of the locker room had already emptied out for the evening following the Round 5 draft, and three-time World Champion Silvano Alves sat down next to his close friend.
Alves patted Pacheco on the shoulder.
Pacheco had a massive bag of ice strapped to his knee.
The 24-year-old could not hide the pain he was suffering from his face.
Pacheco had tried to get one step closer to the 2018 World Championship on Saturday night at T-Mobile Arena. The fourth-year pro looked poised to ride Finning Milky Chance on the final ride of Round 4, but right around three seconds, Pacheco felt a sharp pain in his left knee.
For the first time this week at the PBR World Finals, Pacheco said his torn MCL/PCL in his knee played a factor in him not making a qualified ride.
"I'm real sore, but I'm alright," Pacheco said with the help of Alves translating. "I needed my knee for today. When the bull pushed a little bit, I wanted to use my knee, but I couldn't.
"But it's part of the competition. Right now I'm better."
A Top-5 finish by Pacheco in the round would have forced No. 2 Jose Vitor Leme into a must-win situation for Championship Sunday.
Pacheco achieves childhood dream and wins emotional World Championship (Nov. 13, 2018)
LAS VEGAS – Kaique Pacheco put his still trembling hands around the PBR World Championship trophy, draped in both Brazilian and American flags, as he was introduced to the T-Mobile Arena crowd as the 2018 World Champion on Sunday afternoon.
It took Pacheco – a slow and battered Pacheco – a couple of minutes to limp his way from the PBR Sports Medicine room to the center of the arena as the pain in his mauled left knee had only gotten worse and worse with each bull he attempted during the grueling five days of competition at the 2018 PBR World Finals.
Since he was a little boy in Itatiba, Brazil, Pacheco had dreamed of this moment.
The pain was never going to stop him from riding in Las Vegas.
There was never a question.
Eight days earlier, Pacheco had torn his left PCL and MCL at the 2018 Real Time Pain Relief Velocity Tour Finals.
It appeared as if Pacheco would be on his way to another crushing World Championship shortcoming.
That doubt even creeped into Pacheco's own mind, the 24-year-old would later admit late on Sunday evening.
Therefore, as Pacheco stood there holding that silver and gold trophy in his hands, the Ice Man finally broke down.
Three years of heartbreak, seven long, restless nights at the Park MGM Hotel and Casino as he struggled to sleep because of the radiating pain in his knee, nearly 40 hours of treatment and the realization of a lifelong dream all overcame him.
He was the World Champion.
Photo courtesy of Matt Breneman/Bull Stock Media
© 2023 PBR Inc. All rights reserved.