McCoy Tastes Coaching Glory in Home State
By: Justin Felisko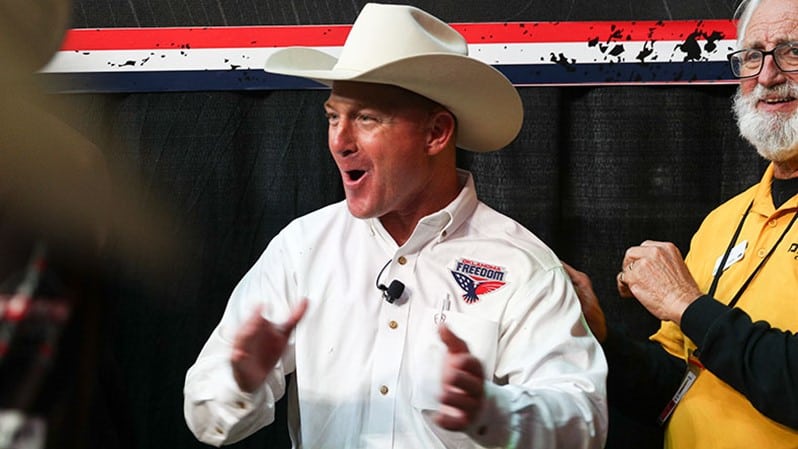 PUEBLO, Colo. – Cord McCoy knew heading into Freedom Fest that he had some good luck as a bull rider back in the day on the then-Built Ford Tough Series in his home state.
Some of the best rides of his career, including a round-winning 90.5 points on Illegitimate 15 years ago, came when the PBR visited Tulsa, Oklahoma.
However, McCoy never tasted an event victory on the premier series during his eight-year riding career.
McCoy finally got to celebrate an event win this past weekend as the 42-year-old head coach led the Oklahoma Freedom (11-8) to a 3-0 record inside the Paycom Center in Oklahoma City to become the first team in league history to win its respective homestand.
"It's neat, but it feels like it's your court," McCoy said. "I was born and raised in Oklahoma. Some of my highest scores were from right there in Oklahoma. Maybe a little coincidence, but I think you expect to win when this is your place. You're supposed to win here. These are the people who have been cheering for you your whole life, and they come to watch you, so you feel like you have some shoes to fill. This is our ground, so don't think you can just roll in here and win. The Oklahoma Freedom had that same mentality. We've been traveling around all year, and it don't matter where we're from. If it's our grounds, we're going to win Oklahoma."

McCoy, who grew up a little more than 100 miles southeast of Oklahoma City in Tupelo, was given a rousing ovation when he was introduced to the Oklahoma City crowd on Friday night.
Carolina Cowboys head coach Jerome Davis agreed with McCoy that the coaches who call their team's state home, or those who grew up there, have a somewhat different emotional connection to wanting to deliver a victory in front of their home fans.
Davis notably became emotional talking to the crowd in Winston-Salem, North Carolina, two weeks ago after 2022 World Champion Daylon Swearingen delivered a walk-off victory over the Arizona Ridge Riders at Cowboy Days.
"It was emotional," Davis, an Archdale, North Carolina, native said. "These people, they were into it, and at one point down the road, I've probably shook hands or hung out with them. It's a different vibe here in Carolina. They really love Western sports, bull riding. I mean, they do. That's what's exciting. Our guys just freaking stepped it up, and that's what's awesome about it. We moved to first place in the league right here in our own town. We were feeling the pressure."
McCoy could relate to the tense moments on the back of the bucking chutes as Oklahoma tried to finish what Carolina failed to – win all three games of their respective homestand and win the event.
His blood pressure was certainly rising as the weekend progressed.
All three Oklahoma victories came down to the final out of the game, and every single time, it was Derek Kolbaba coming through clutch with a walk-off, game-winning ride.
"It's tough to see how much home-field advantage makes a difference, and we proved that this week," McCoy said. "You hate to have it come down to the last bull every time, but the crowd gets up and gets behind us, and it makes a big difference."
Kolbaba said the Oklahoma City crowd's standing ovation and raucous environment before he nodded for the gate was a welcome moment.
He knows he needs to convert in these kinds of situations once the Unleash The Beast season begins in November and he begins his pursuit of the 2023 PBR World Championship.
"It's just telling myself, 'This is what you live for. This is where you want to be,'" Kolbaba said. "When people say pressure can bring the best out in you, that's where I want to be every time, and obviously, it's working."
Oklahoma has won seven consecutive games and continues to surge up the PBR Team Series standings.

The Freedom are 11-8 and are sitting third in the standings. However, Oklahoma is just one game behind No. 1 Carolina (12-7) heading into this weekend's Thunder Days in Ridgedale, Missouri.
The Freedom take on the Nashville Stampede (5-13-1) on Friday night at the outdoor venue.
All the action begins at 8:45 p.m. ET on RidePass on Pluto TV.
"That's one thing that we're trying to strive ourselves with, just taking it one bull at a time and one game at a time," Kolbaba said. "It doesn't matter what happened yesterday or what happens tomorrow. It's just about what's going on right now. It's trying to keep everyone's spirits high and reminding them that when the team wins, we all win, no matter what the outcome was, and to keep everyone's morale up."
Follow Justin Felisko on Twitter @jfelisko
Photo courtesy of Todd Brewer/Bull Stock Media
© 2022 PBR Inc. All rights reserved.