Orin Larsen Gets Coveted Ponoka Stampede Victory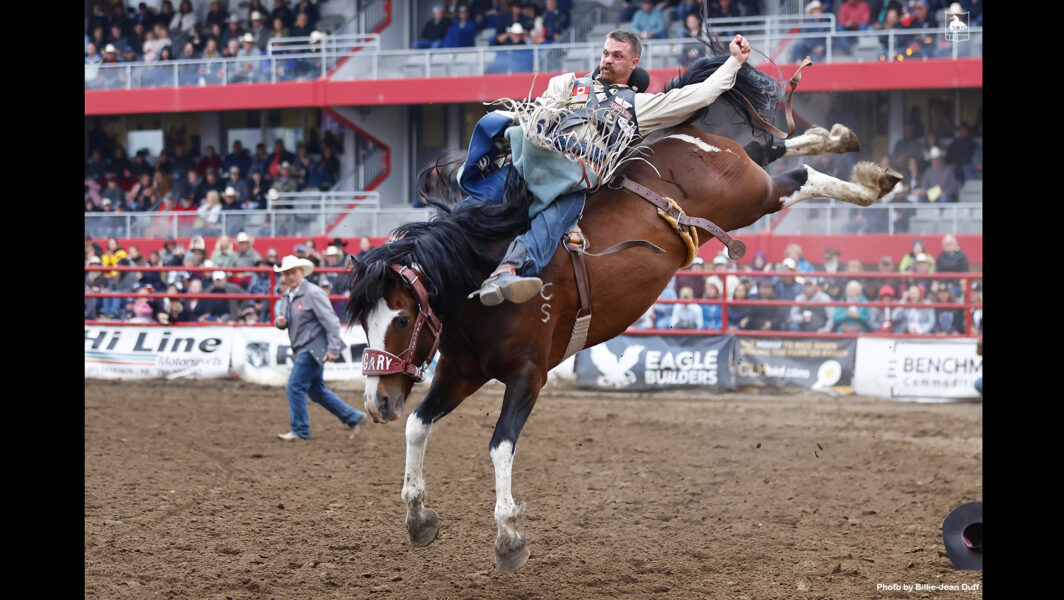 Bareback rider Orin Larsen proved to himself and everyone else he's still a force to be reckoned with in rodeo on the way to his inaugural Ponoka (Alberta) Stampede championship Sunday.
The Manitoba-raised cowboy finished second in the aggregate, to earn a spot in the lucrative sudden-death Showdown round. There he drew standout Calgary Stampede horse Yippee Kibbitz, marking 90.75 points for the title.
"I've thought about that horse and having him here, so it was a dream come true," said the eight-time Wrangler National Finals Rodeo qualifier.
Larsen had won a round on the horse at the 2020 NFR and took first in Pendleton on him as well.
"That's just a little bitty horse but he's really stout and has a pretty big heart about him," Larsen said. "He just gets in the air and kicks hard and is in the running for horse of the year, in my opinion."
Larsen was just starting his Cowboy Christmas run, only taking in Prescott in addition to Ponoka. Earning just $4 shy of $16,000 at Ponoka will help him make up some valuable ground in the PRCA | RAM World Standings, as well as giving him a long-awaited victory.
"I've been coming here for over a decade, so I've been waiting for this one for a while," he said.
After Larsen had to withdraw from the Wrangler NFR prematurely last December because of a broken thumb, he had questions about his rodeo future.
"The time off was kind of a big struggle for me, mentally and physically, but I've got a good family to back me up," Larsen said. "I had to see if I still have it if I am competitive with everybody else. I'm slowly proving to myself I still can (ride), so it's pretty exciting. I've never had so much fun before. I've got a whole new outlook on rodeo and how I approach things.
"We're a long way from where I want to be. I think that's just the competitor in all of us. That's the ghost we always chase. As long as you keep bettering yourself. the winning's going to come. We're going to keep stepping closer to it."
Other winners at the Playoff Series rodeo were steer wrestler Dalton Massey ($18,062); team ropers Paul Eaves/Erich Rogers, who roped in 6.9 seconds in the Showdown ($20,327); PRCA Saddle Bronc Riding World Champion and Canadian champion Zeke Thurston won the Ponoka saddle bronc riding title for the third time in his career, with 92.75 on Calgary's Dandy Delight ($18,016); tie-down roper Ty Harris ($18,155); and bull rider Nick Tetz, who was the only one to cover his bull in the showdown, collecting $23,907.
Courtesy of PRCA